MAVERICKS PREVIEW | Venter hoping her side are up for the challenge (NSL Rd4)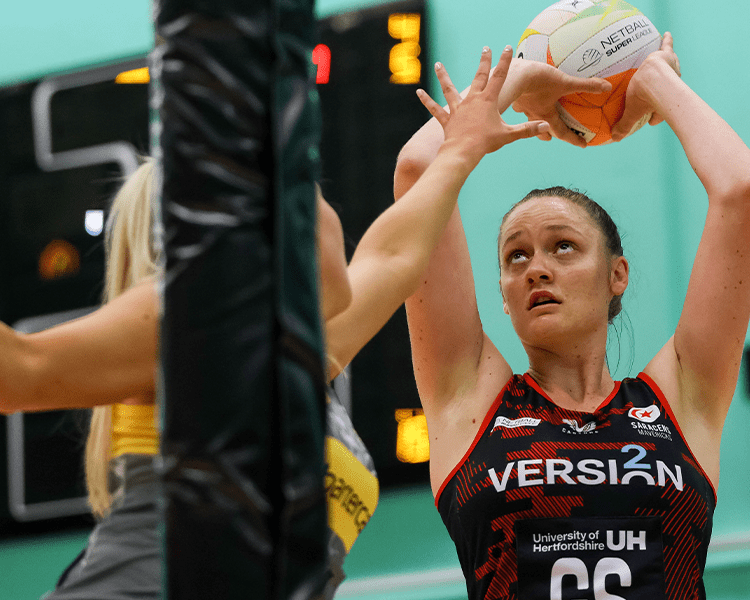 Goal-shooter Ine-Mari Venter is hoping that her side rise to the challenge of back-to-back matches this weekend.
"Back-to-back matches is always hard on the body and the mind. It's never easy but we also know that we're coming up against two very strong teams in Loughborough Lightning and Surrey Storm. We're looking forward to putting out two really good performances this weekend."
Last weekend against Leeds Rhinos, Mavericks put in a consummate display to secure victory in front of a vocal HSV crowd. After suffering defeat in the first match of the season against Severn Stars, Venter admitted that the result was a crucial one for her side.
"I was cheering as if we'd won the final at full-time!" she laughed.
"We wanted the win in the first match and were a bit disappointed to lose, so to get that win was really good. It's a start in terms of seeing how the connections are building and finding our groove. It's a great foundation going forward."
The South African also praised the home crowd for roaring their side over the line.
"It's always good playing in front of a home crowd. We can always draw a lot from them whether we're up or down on the scoreboard. Luckily it went our way, and we had a lot of happy fans. It was great being back in front of the home crowd again."
There are few tougher away days than the two that Mavericks have in front of them this weekend though, with Friday's visit to Loughborough followed by an away fixture against Surrey Storm. Venter is expecting a physical affair against both sides, as she praised their shooters for the work in the attacking third.
"They are both tactically very good teams and they're great at keeping possession of the ball. Both teams are very physical in the shooting circles and are both great teams in general. The shooting circle is always very competitive. Mary Cholhok (Lightning) and Peace Proscovia (Storm) are both very strong shooters, so it's going to be a focus for us to turn the ball early before it gets to them."
Both Lightning and Storm are currently unbeaten this season, but Venter has called upon her side to put their best foot forward in pursuit of results.
"Everybody is looking forward to the challenge of the quick turnaround and the players we're coming up against. We want to put in a good performance and see where we're at against two of the top teams in the league. It's a great challenge for us going into this double header weekend."