Winning the 7s is an unbelievable feeling - Whiteley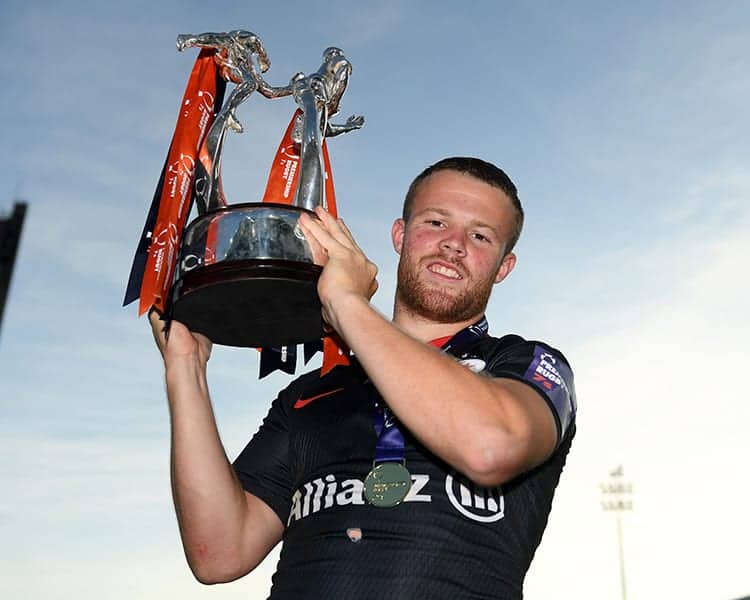 Tom Whiteley was named Player of the Tournament after inspiring Saracens to a second Premiership 7s title in as many years.
The 23-year-old led front from the front as captain as Sarries remained unbeaten with five victories over two days at Franklin's Gardens.
Following on from a conversion in the first win over Sale Sharks, Whiteley crossed for four tries in as many matches and added the extras on 13 occasions.
The Men in Black were made to work hard to retain their title, going down 12-0 in the opening stages of the final against Wasps but Whiteley and co were composed, managing to turn the contest on its head for a 35-19 scoreline.
"It's an unbelievable feeling," Whiteley said.
"On Friday we spoke about being the toughest, most competitive side and I think we proved that in bucket loads.
Purchase the 2019/20 Saracens home shirt – as worn by the Premiership 7s winners
"There were moments in all three games (on Saturday) where we didn't look like getting through it but we said we would be the toughest team and that's what we were."
The average of age of Saracens' squad for the Premiership 7s was just 20 with Whiteley one of the more experienced players in the group.
"We're seriously lucky to have that many young players at the club." 
The scrum-half praised the young guns for their efforts, stating the club are 'very lucky' to have the talents they have. 
"We have some seriously young, talented players at this club and we're very lucky," he said.
"You can take me and Daisy (Alex Day) out of it as we're the oldest here! Everyone is 18, 19, 20 and we're seriously lucky to have that many young players at the club able to turn up on the big stage against some good teams, it's pretty amazing."
Whiteley also reserved praise for Senior Academy Coach Adam Powell and Academy Coach James Tirrell who will now lead Sarries into the Premiership Rugby Cup campaign.
"They've been unbelievable," the Academy graduate said.
"They sort of let it be a player-led thing to a certain extent; they let us take charge of a lot of stuff.
"It's more us problem solving which is a massive learning curve for us as it's not very often you get to play in a team where the coaches give you that much control and let you think about stuff yourself so hopefully that puts us in good stead for the rest of the season."
Saracens Men's first home game of the campaign is against Sale Sharks on Saturday 28th September. Book your tickets HERE!