Allianz Cup | The Story so far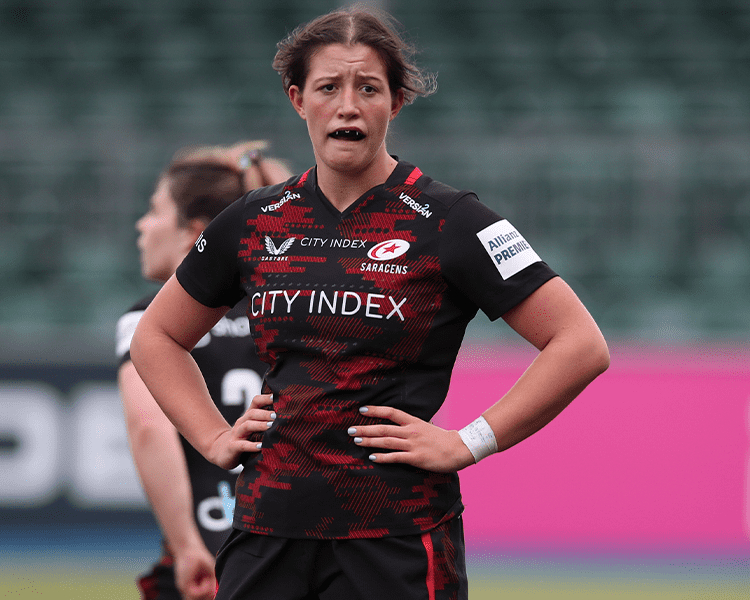 It seems strange to think we're reaching the semi-finals of the cup, having begun the campaign back in September.
On Saturday, Saracens Women make the trip to Gloucester-Hartpury in the Allianz Cup semi-finals, having secured their place in the last four by virtue of finishing second in the group.
The campaign got underway with a high-scoring thriller at StoneX against Bristol Bears. Whilst the Bears got themselves off to a flying start, it was Alex Austerberry's new recruits who were making their presence felt, with Grace Moore giving Sarries fans a taste of what was to come throughout the season, with a typically powerful performance.
With Bristol running rampant, Sarries responded with debut tries from Isla Alejandro and Sydney Gregson, along with a May Campbell hat trick. However, the Bears stole a march in the last 20 to eventually pull clear.
Heading into the following week away at Sale, a big response was needed. Evans continued her fine start to life in a Saracens shirt with a quick try, before Vicky Fleetwood showed her class with two tries.
In the second half, Moore scored one of the individual tries of the season as she muscled her way to the try line from halfway, as Sarries ultimately secured a comprehensive victory.
If the first two matches had been free-flowing affairs, the match against Loughborough the following week was one that was probably best described as 'for the purists.'
In a stop-start affair, Kelsey Clifford powered over for Saracens, with May Campbell continuing her stunning try scoring start to the season. Loughborough responded though and it was only a last-play penalty from Lisa Martin that eventually secured a narrow four-point victory for the women in black and red.
After the match against Wasps was postponed until March, the side picked up where they left off, with a dominant display that saw them score 70 points at Twyford Avenue, including a first try for the club from Canadian prop Maya Montiel.
It was a victory that secured Saracens' place in the last four and now, after a four-week break from competitive action, the pressure ramps up again.