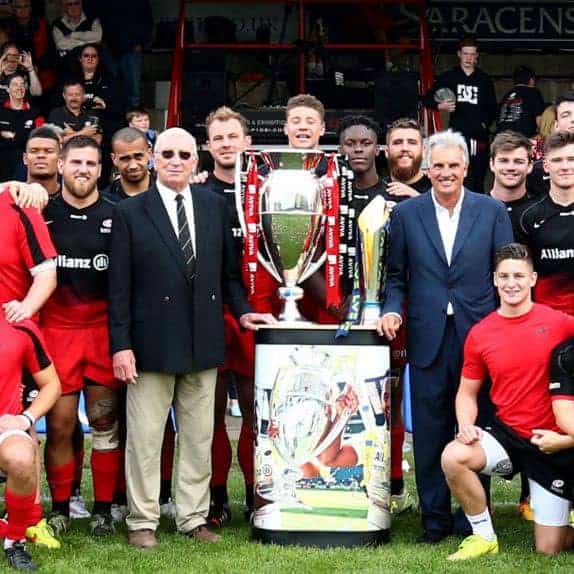 In 1876 the Saracens Football Club was founded by the Old Boys of the Philological School in Marylebone (later to become Marylebone Grammar School) and its first fixture was at Primrose Hill playing fields with the red star and crescent worn. Amalgamation with neighbouring club, the Crusaders, occurred in 1878.
Move to Bramley Road

Saracens had played on nine different grounds before the move to Bramley Rd for the 1939/40 season (although the war actually prevented them from playing there until 1945).
The club has enjoyed fixtures with the leading clubs for many years and enjoyed a particularly successful time in the 1970's when they reached the semi-finals of the National Cup (now the Tetley Bitter Cup).
Special games played at Bramley Rd during this period include the 1971 match against a select International XV. It was a fantastic occasion, as a 5,000 strong crowd (the largest ever to watch a game in North London at the time) came to watch a magnificent contest, ending Saracens 34 International XV 34. Saracens were down 16 - 30 at one stage, before producing a great rally to equalise near the end. This was no mean feat considering the opposition contained J.P.R. Williams, and several other Lions! Open rugby was played throughout, with the day serving as a tribute to the late Brian Goodchild, and raising a considerable sum for a worthy cause.
Courage Leagues
After some bleak years in the early 1980's, the club responded to the challenge of the Courage Leagues, and with Floyd Steadman as captain and Tony Russ as coach, they won the second division in 1989 with a one hundred percent record. The following year in the first division the Saracens surprised many by finishing fourth in the league behind Wasps, Gloucester and Bath.
The 1992/93 season saw the leagues restructured with Saracens, along with three other clubs, being relegated to the second division. In 1993/94 Saracens finished third and narrowly missed out on promotion but the following year they finished as champions and were again back in the top flight. Saracens seesaw existence over the nineties was about to continue in 1995/96 where they again found themselves at the wrong end of the table along with West Hartlepool but they were saved in a reversal of the rules that saw them loose out a few years earlier.