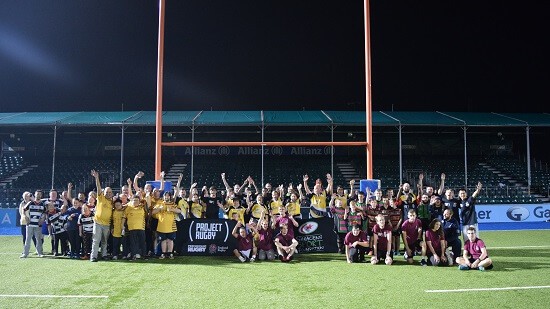 For players to say "It makes me feel okay to be different" and "Project Rugby opens doors for those who rarely get heard" brings home the importance of the programme.
Saracens Sport Foundation hosted its second Mixed Ability Project Rugby festival at Allianz park on Wednesday 10th October. Building on the success of the inaugural event in April, this festival was a big success with six teams from across Hertfordshire and North London in attendance. Fullerians RFC, Harpenden RFC, Letchworth Braveherts, Mill Hill RFC, Sarries RFC and Welwyn RFC all turned up raring to go. With over 100 players and supporters in attendance on the night, the air was buzzing and all the games were played in great spirits.
Mixed ability rugby supports individuals with high functioning disabilities engage with rugby in a fun, team focused environment, with the aim to increase and sustain regular physical activity, improve social skills and create a sense of belonging.
This fantastic festival forms part of Saracens Sports Foundation's Project Rugby Scheme. Project Rugby is a joint initiative between Premiership Rugby and England Rugby which aims to challenge existing perceptions of the game, and position rugby as a sport for anyone, regardless of ability, gender or background. At the end of the festival, we asked all the players what Project Rugby meant to them and their responses were demonstrative of the impact Project Rugby is having on their lives.
If you would like more information on your local mixed ability team, please contact the Project Rugby Team on projectrugby@saracens.net