Find out from Alex Goode how COVID-19 has affected training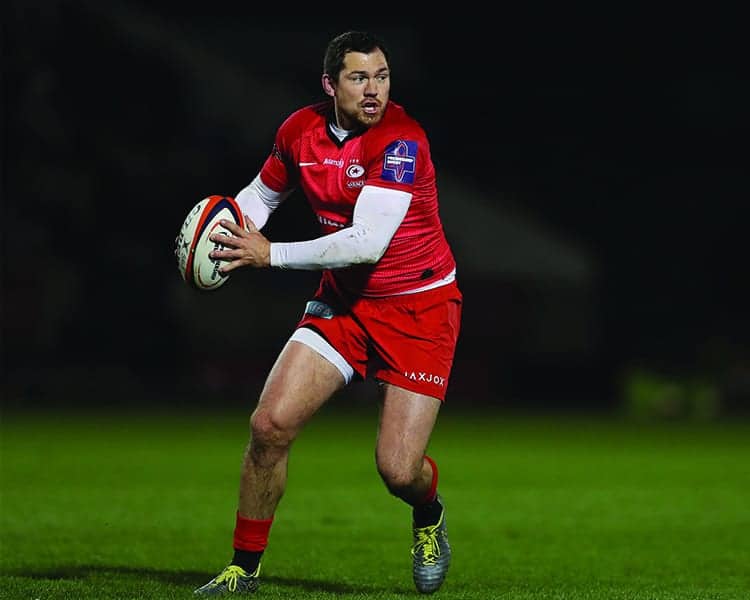 With the rugby schedule affected by COVID-19, the Saracens squad have been forced to train individually.
Alex Goode reveals what he's been up to to keep himself fit and busy in self-isolation as well as reminiscing on last year's full-kit celebration and this season.
Keeping fit in self-isolation…
It's a strange time, worrying times I must say. Rugby is not on the horizon any time soon so I'm doing a few pilates classes with my girlfriend which is causing a bit of stiffness in areas I've never used before! I'm doing a bit of that to keep busy, a few runs around the park. It feels like you're going for a trial when you're under-18s and your dad takes you out on a run and did laps of the park.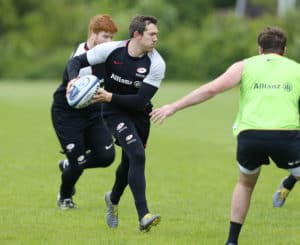 I've got some bands which are pretty hard in terms of resistance. The hardest thing really is you can do as much core as you like in the house, you can do press ups, some shoulder stuff but the reality is doing heavy leg weights or lifts is hard. There's not really an easy way around that. You just have to keep as fit as possible running wise and as strong as you can possibly can be. We've been sent programmes by the club but we're limited on space; my house isn't huge so it's not the easiest thing to do. I do have a garden but it's about three by six metres so I'm not doing shuttles in the garden! Luckily there is a park near me so I can go there.
Sometimes the simpler the exercise the better it is. With all this modern day science and everything else, the reality is if you can get a lot of shuttles in and train in some way… today's game is about acceleration, the quickness between breakdowns and getting off the floor so the long runs of 20 miles or a 5k run is not as effective as it used to be. That short sharp stuff is better.
It just depends on what is going to happen over the next couple of weeks. Will we be allowed to go to the park?
Activities aside from fitness…
Last week I watched a few reruns of our finals! I was chatting to Mako Vunipola and we had a little look at a few finals and were giving each other a bit of stick about that.
I've got a building project going on at the moment so I've been keeping on top of that. Then, it's quite sad but I didn't want to be sat inside doing nothing, so I've started doing an Excel spreadsheet course on YouTube! It's as basic as it gets. I know how to use Excel but I've seen people use it who are phenomenal at it. It's a brilliant skill and I just thought I'd try and get really good at it. A bit tedious but very useful.
The full-kit celebration…
It's still memorising to me how big it seemed to go really! The t-shirts with my face on… I was a little bit disappointed I didn't get the patent or copyright; it wouldn't really sell much except to my own family! I have seen quite a few of them which is scary. It was one of those mad things; I wasn't planning to go for three days!
On the Tuesday morning I was feeling pretty sheepish as you would after three days and we had our end of season dinner on the Tuesday night. I had a few people ask me if I would go in my full kit to that and I sort of realised it was getting a bit over the top and should probably have a shower and wash. All the lads were laughing at me as I was sat my table white as a ghost, then Nigel Wray got up on stage and did a talk about the whole year, and spent the first five minutes saying how great he thought the celebration was – the biggest relief of my whole life!
We've been through seasons where we weren't celebrating wins or when we were going well as we were pushing standards so much; we were constantly at each other to get better and improve. We had a meeting about we need to celebrate the victories and the small victories. That helped us going forward and from then on we spoke about doing it more and more.
I'm very lucky from my point of view to have been in a few finals and celebrated a few victories and I think this one it was one of our best performances ever, against one of the best sides I've played against in Leinster and we had the chance to celebrate, and why not? I thought it was a great group of guys who had been through so much and we needed to make the most of it. I'm very happy we celebrated it and I've got memories of those three days (just about!) that will stay with me for the rest of my life.
Trials and tribulations of 2019/20…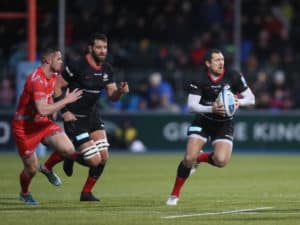 It's tested us. As a playing group, the boys are sticking it out. The fact we had the win away at Gloucester when everyone was against us, wins against Sale, Racing, the win against Ospreys away where we had no right to win it but did after going down to 14 men after five minutes. It's shows the togetherness of the squad, how much we want to fight for one another and that's shown on the field but it has been extremely hard. People have been worried about families, contracts, what's going to happen next and probably even more so than ever. I won't lie, it's been pretty brutal for everyone involved but the fight, the spirit and the togetherness has been impressive at times I must say.
The young guys have stood up and been great; the older guys have led really well at times. I think everyone has had their points to lead and to take it forward. Generally, and I've been injured for a lot of it, I would say the players who have been out there deserve a lot of credit for going out there and performing.