Manu Vunipola: Growing up a kicker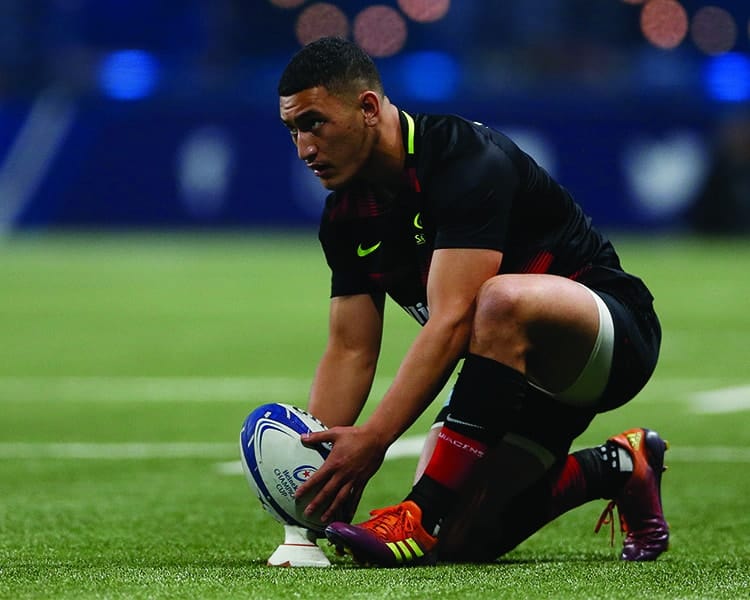 Often a person's passion for sport stems from it being introduced into their life at a young age and Manu Vunipola is no different.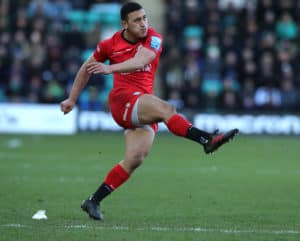 Three Tonga internationals in father Elisi and uncles Fe'ao and Manu, as well as cousins Mako and Billy, meant it was a given rugby would be part of the youngster's upbringing in one way or another.
Having featured at the 1995 and 1999 Rugby World Cups, fly-half Elisi was at Bay of Plenty on New Zealand's northern coast when Manu was born and before long had a rugby ball in his hands, kicking to his heart's content.
"It all kind of started when I was a little kid and I would go with my dad to his training sessions," the Saracen said of his kicking practice.
"I would always bring my kicking tee and just kick the ball about. When I was a little bit older aged around seven he started coaching me a bit from what I can remember!
"I would always have a few rugby balls at home and would kick about whenever I got back from school and on the weekends especially whenever I'd watch my dad play. There was a field nearby where I would just kick every day even though there were no goalposts I'd just imagine if there were!"
An early drive and backing from his family has led to Vunipola progressing on to the first-team stage at Saracens.
"I've enjoyed these challenges that I've had, it's a good experience for a young player like myself."
He joined the junior Academy in 2014 and has now made 21 senior appearances, featuring regularly during the 2019/20 campaign.
Across the Gallagher Premiership and the Heineken Champions Cup, a competition he made his debut in away to Racing 92, Vunipola has slotted 15 conversions and 15 penalties in total this season and in all weathers too, leading the Men in Black to victory via the boot on the road at Ospreys in the pouring and slotting the winning kick against London Irish whilst the rain hammered down on his back.
The latter is a game Vunipola remembers fondly having missed a kick moments before as well as hostile atmospheres at Kingsholm and Franklin's Gardens. How does the England Under-20 international maintain his focus during high-pressure situations?
"I was told to kick as if I were at the park kicking about with my mates," he said. "This helps relax me and reminds me that it's all about striking the ball sweetly.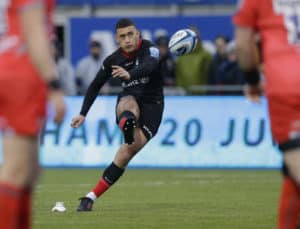 "I've enjoyed these challenges that I've had, it's a good experience for a young player like myself. I don't think about the outside noise to be honest I just like contributing points for the team whenever I get the chance and to just enjoy the kicks because of how much practice I put in."
Vunipola added: "Obviously the winner against Irish in the last play was pretty cool, but for some reason it was the kick before that which sticks in my mind because I had the opportunity to take lead with the conversation but missed it twice which really annoyed me!
"It's important to move on whether it's good or bad however it can be helpful sometimes to remember what you did before if it worked to try and replicate that or if you missed what caused that."
It's not just place kicks that Vunipola gets in a habit of repeating after training. Kicking from hand is also a vital component of the game. Does he have a favourite?
"I was told to kick as if I were at the park kicking about with my mates."
"My preferred style would be a spiral kick which I'm not very good at! I'm still working on it but if I can perfect that then I'd be very happy with myself.
"All sorts of kicks are needed in a rugby match because having just one option hinders your game and stops you from being able to kick ball to space. For example, a light grubber behind the line so that your winger can get to it before the full-back beats you there is different to a longer punt to relieve pressure for your team."
Vunipola is fortunate to have kicking coach Dan Vickers to learn from and experienced club teammate Owen Farrell.
A lot of hard work goes into what any kicker does on the field and mindset should remain the same as Vunipola concludes.
"Kicking in training is competitive but not much behind it however in matches it's different because there a sense of judgement from the crowd expecting me to get every kick. There shouldn't be any differences to what you do in training as long as you don't let any outside distractions affect you within your technique and timing won't be a problem.
"I spend a lot of time doing kicking sessions with DV and Owen, they've helped me massively these past two seasons with all sorts of kicking. I can't thank them enough for it and I just try to soak up as much information and try to get as many sessions out of them as possible."