MATCH REPORT | Manchester Thunder 75-48 Saracens Mavericks (NSL Rd19)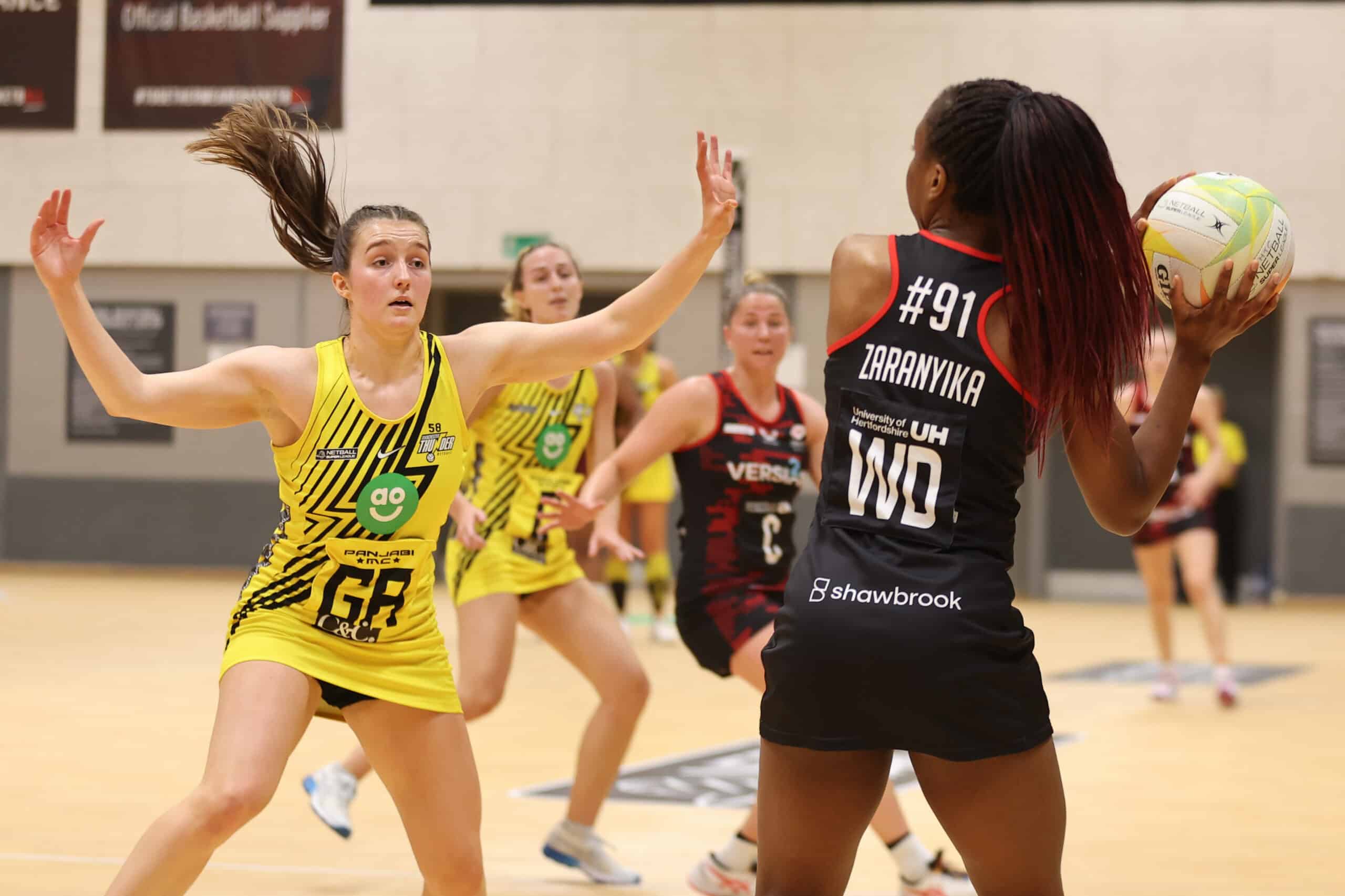 Saracens Mavericks suffered a blow in their pursuit of fifth in the table, as Manchester Thunder put in a masterclass, to secure a comprehensive victory.
The hosts powered ahead to lead 17-9 at the end of the first quarter, and never looked in danger of relinquishing their advantage. A great defence end performance by Josie Huckle saw her pick up the Player of the Match Award.
Huckle set the tone of the defence pressure with a fly in the first Mavericks play, followed up seconds later by Emma Dovey turning over ball through a contact by Kira Rothwell. This enabled Thunder to gain an early five-goal lead.
Ine-Mari Venter joined the game at goal shooter for Mavericks but changes in the Mavericks circle could not stop Huckle gaining intercepts and deflections, as Thunder pulled out to a fourteen-goal lead.
Changes for Mavericks with Beth Ecuyer-Dale coming on at centre and Lisa Mather moving back to wing defence gave more hustle to the defensive end and with the returning Venter scoring freely, Mavericks drew the quarter scoring 16-16.
Lenize Potgieter returned to the action at the start of the third quarter for the hosts, after leaving the court injured in the second quarter, with Ella Bowen also on at goal defence.
Within the first two minutes, Thunder pulled out to a ten-goal lead. Mavericks continued working hard but the speed of the Thunder attack and the relentless pressure from the defence end was just too much to control.
A 23-10 quarter saw Thunder lead 56-35. Quarter four saw Dovey back on court at goal defence with Bowen moving back to goal keeper, but an injury to Dovey meant Huckle re-entered the game.
Whist Mavericks continued to fight for everything out on court, it was just too big a gap to chase down, as Thunder continued to surge clear.
Mather showed her defensive skills with an intercept of her own for Mavericks, but with a twenty-three goal advantage for Thunder, it was just too much for Camila Buchanan's side.
Goal difference now means that Mavs must secure a result away at London Pulse in the final game of the season, if they are to secure that fifth spot in the league.