MATCH REPORT | Saracens Women 64-20 Worcester Warriors (AP15S – RD 8)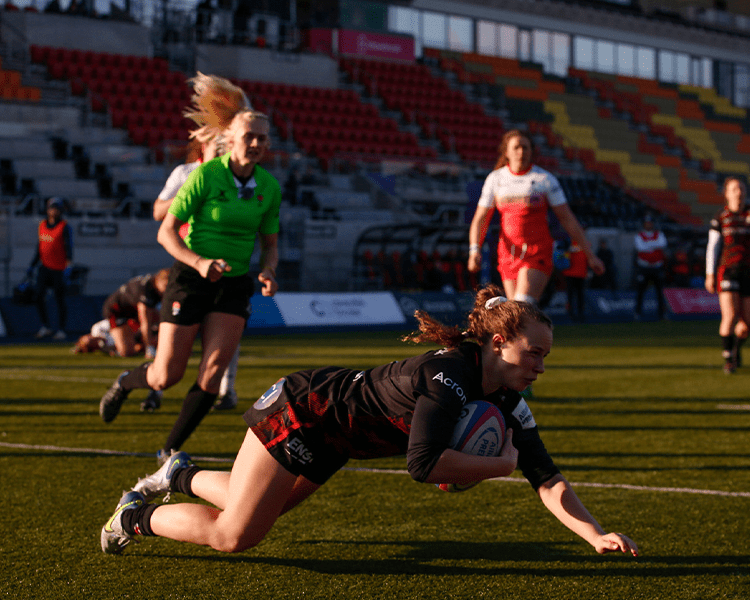 Saracens Women turned in a comprehensive performance at StoneX Stadium, as they brushed aside Worcester Warriors with a ten out of ten display.
It was a day for milestones, as Kelsey Clifford and May Campbell played their 50th and 100th matches respectively and Clifford wasted no time in marking the day, as she powered over the line after just two minutes.
It was a clever move from a quickly taken penalty as well, with Poppy Cleall releasing the prop to crash over.
Saracens were relentless in the opening exchanges, as they burrowed over for their second not long after. Again, it came from a clever play from the penalty, with Cleall releasing Marlie Packer, before Louise McMillan picked a sumptuous line to dot down for her first of the afternoon.
Worcester though, would hit back with a stunning score from Paige Farries. The wing picked a brilliant line off of scrum half Caity Mattinson, to put her side on the board.
Saracens were in no mood to let-off though, as Coreen Grant raced over for another superb score. This time, it was Zoe Harrison pulling the strings, with an inch-perfect kick for Holly Aitchison, before picking a perfect pass to Cleall, who in turn released Grant to race over.
The Warriors continued to probe though and Farries had her second near the half hour mark, as she latched onto a bobbling ball in the Saracens' in-goal area.
Alex Austerberry's side would have one more score before the break though, with McMillan grabbing her second. This was a fine score too, with the second-row taking a fine offload from Georgia Evans, before galloping down the field to race over.
Into the second half and there was no let-up from Saracens, as May Campbell marked her 100th appearance with a trademark try from close range.
Saracens were continuing to hit the accelerator now, with Lotte Clapp forcing the retreating Farries into a knock-on, but Worcester would eventually survive.
In truth, there were only a few blots on the copybook for Saracens and one of those came when Cleall saw yellow for collapsing the maul.
The Warriors continued to hammer away at the Saracens line and eventually, Lana Skeldon found space to crash over for her side's third of the night.
The game was becoming end-to-end now, with both sides pouncing on mistakes and ill-discipline. This time, it was Saracens who profited, as a series of breakdown penalties, allowed Zoe Harrison to kick her side back into an attacking position.
With the driving maul again sending Worcester backwards, Campbell thought she was in for her second, only to be denied by some heroic last-gasp defence. It didn't matter though, as Leanne Infante craftily popped around the corner, to dot down for her first try back in Saracens colours.
The Warriors though hit back again and scored their fourth of the afternoon, as Charlotte Wright Haley raced away from the back of a maul, after a Saracens error has allowed them to gain field position.
That would prove to be their last score though, as Saracens took control in the final quarter.
First, Jess Breach latched onto a perfect crossfield kick from Holly Aitchison to race away, before Grace Moore scored straight from the restart.
This was a fantastic score too, as Moore powered through the Warriors defence, before recycling herself back into the attack and grounding from close range.
The tries were flowing now, as Sydney Gregson helped herself to a try, after running a wonderful outside arc off of Zoe Harrison,  as Saracens continued to turn the screw.
Poppy Cleall would put the icing on the cake in the final play as well, after Isla Alejandro had carved through a tiring Warriors defence to put her side back on the front foot. Saracens again used the forwards as they motored up towards the line, with Sharifa Kasolo popping off to Cleall to dive over and secure a hugely important result for her side.
It was by no means a completely perfect performance, but this was far more like Saracens will have been hoping for, as they head into next weekend's huge away fixture with Bristol.