MATCH REPORT | Team Bath 50-49 Saracens Mavericks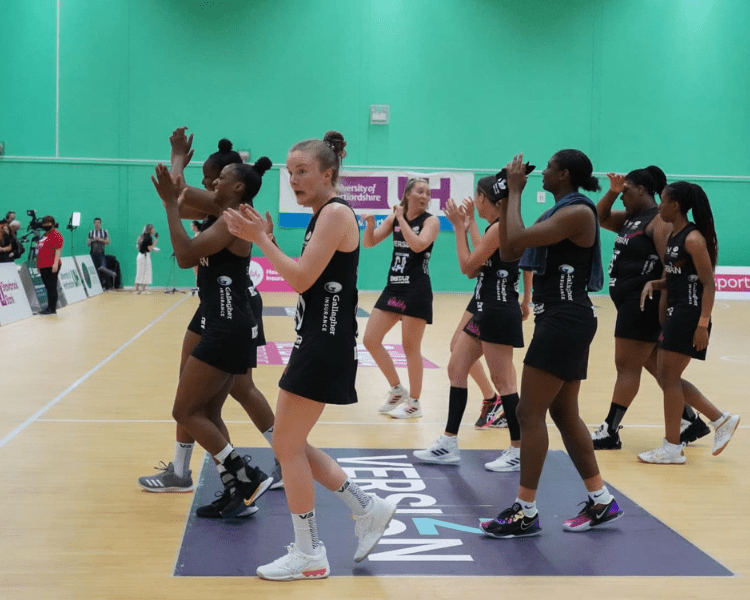 Written by Erica Rosa Tapp
Agonising 1-goal defeat to Team Bath as Mavericks rue missed opportunity
This rearranged Round 10 match was a critical clash in the battle for a top four finish. Level on points, these established teams were looking to the Friday night fixture to strengthen their claim to a place in the play-offs. Agonisingly for Kat Ratnapala's side, it was Team Bath who left the arena with those precious three points.
Unsurprisingly, the teams were perfectly matched in a contest that proved to be both athletic and intelligent. However, it was the defensive play that characterised this meeting.
Quashie, Gibson and Zaranyika (replaced by Marshall from the second quarter) worked tirelessly to deny any easy feeds into the circle for the Blue and Golds. Frustratingly, Bath's defensive players were doing exactly the same at the other end of the court with South Africa's Phumza Maweni being awarded Gilbert Player of the Match for her defensive exhibition.
Team Bath got the upper hand in the opening quarter but the Black and Reds responded with gritty determination to go into the half time break level at 26-26.
More of the same in the third quarter as the teams continued to go toe-to-toe. However, the visiting team found a way through and claimed another quarter, notably helped by the mid-to-long range shots of a cool-headed Kadeen Corbin.
Mavericks held tight to their four-goal advantage in the fourth. However, the home crowd got behind their team and the momentum shifted in Team Bath's favour in the closing minutes. Blue and gold dresses found their way to net four times in the final three minutes to steal victory from under Mavericks' noses. An unbearable end to such a well-fought contest.
Saracens Mavericks can take solace from having a game in hand as they regroup before hosting current VNSL champions, Loughborough Lightning, on Bank Holiday Monday.
Match stats
Team Bath starting 7: GS Kim Borger; GA Sophie Drakeford-Lewis; WA Kirsty Harris; C Imogen Allison
(C); WD Tash Pavelin; GD Layla Guscoth; GK Phumza Maweni
Replacements: Lily-May Catling; Betsy Creak; Hannah Passmore; Jess Shaw; Rachel Shaw
Saracens Mavericks starting 7: GS Britney Clarke; GA Kadeen Corbin; WA Sasha Corbin (C); C Beth Ecuyer-Dale; WD Aliyah Zaranyika; GD Jodie Gibson; GK Razia Quashie
Replacements: Odiri Atirene; Bella Baylis; Chloe Essam; Georgia Lees; Gabby Marshall
Quarter scores (Team Bath first): Q1 15-12; Q2 26-26 (11-14); Q3 36-40 (10-14); Q4 50-49 (14-9)