Mavericks Netball to take on England Thorns in March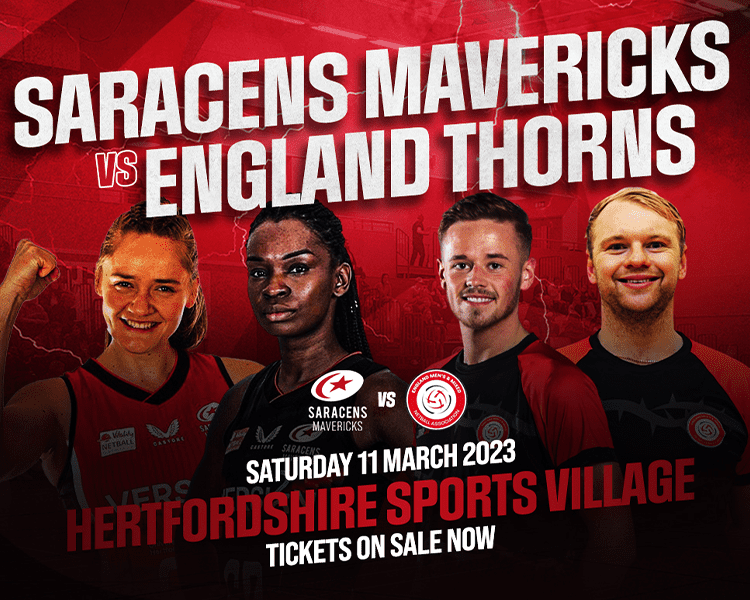 Saracens are delighted to confirm that Mavericks Netball will be taking on the England Thorns on 11th March 2023 at Hertfordshire Sports Village.
This match will be the first to be staged between a Netball Super League club and the Thorns.
The Thorns were formed in March 2022 and played their inaugural fixture in October against the Australian Men's Team, as part of EMMNA (England Men's and Mixed Netball Association's) programme. The Thorns take on England's Future Roses this weekend and will provide another stern test for Camilla Buchanan's side in March. 
The match is one that should prove to be an exciting encounter for all in attendance and will provide an opportunity for Buchanan to further challenge her squad at a crucial point in the Netball Super League season.
Speaking about the fixture, Head Coach Buchanan admitted that she was relishing the opportunity to take on a new side, with a completely new style of play.
"We're really grateful to be able to take on the Thorns. It's a great opportunity and a chance to give our supporters a fantastic fixture. It will be a great way to keep our momentum going for the season and expose ourselves and the Thorns to the netball community. We're really excited for the opportunity."
Director of Women's Sport Kieran Crombie was delighted to confirm the fixture and feels that the match will prove to be a unique occasion at HSV.
"We are really excited to be playing a match against the England Thorns this season! We can't wait to see our fantastic women take on the national men's team. It's set to be an unmissable game! Let's get behind our Saracens Mavericks as they take on the boys."
Centre Pass for this fixture with be a 4pm, with tickets on sale now at £18 for juniors and £27 for adults.