MATCH REPORT | Exeter Chiefs 37-19 Saracens Women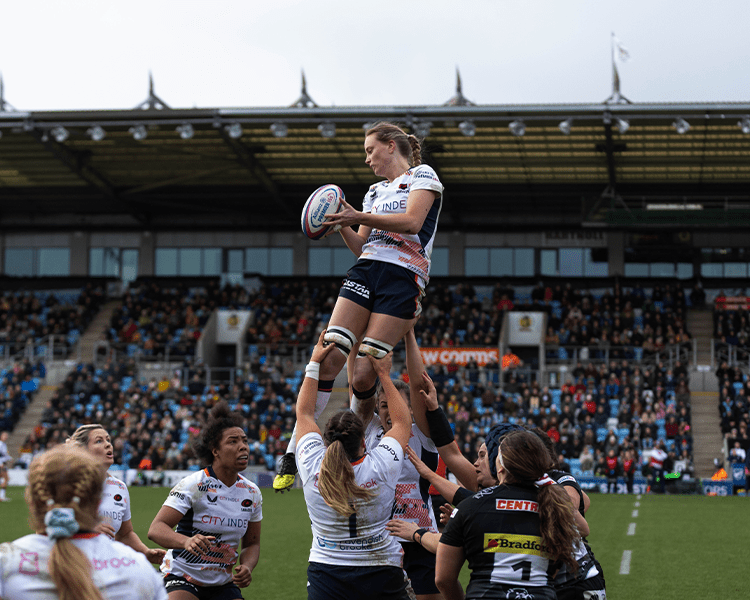 Sandy Park lived up to its reputation as a tough place to go, as the Devonians secured victory over Saracens Women on a chilly West Country afternoon.
Following on from a victory over DMP Sharks last weekend, Saracens came into this one with a point to prove on the road. However, it was the Chiefs who started the stronger, as they pressurised a Saracens side who struggled to get out of their own half.
In truth, the Saracens defence held up well in the opening exchanges, against an onslaught from the Exeter attack. Eventually though, the dam burst, as Kate Zackary freed the hands in contact and found Liv McGoverne, who raced through to score in the corner.
Minutes later, Exeter had their second of the afternoon, as Lori Cramer broke free down the wing and kicked through for Flo Robinson to chase and dot down.
Saracens were struggling to get out of their own 22, as Exeter continued to attack in waves, and their task became a lot harder when Poppy Cleall was sent for ten minutes in the bin for an infringement on her own line.
Whilst Exeter were initially repelled, as Merryn Doidge was held up over the line, their third score of the afternoon would soon follow, as Maisy Allen reached out to dot down in the corner.
Saracens were at sixes and sevens, as they struggled to get their hands on the ball. Their challenge would only get more difficult as Exeter scored their fourth through Kate Zackary, after Merryn Doidge had crated space for the centre.
Alex Austerberry's side were in need of a lift, and they thought they had found it, as Marlie Packer looked to shake off the attentions of the Exeter defence.
Whilst Saracens were now beginning to build the phases, Exeter were still looking dangerous in attack, as Hope Rogers crashed over from close range.
Eventually, the Saracens pack managed to motor into life, as they drew consecutive maul penalties from the Exeter pack. With a penalty advantage, Holly Aitchison put in a delicious chip for Lotte Clapp to latch onto, with the winger showing superb awareness to ground over her head.
Saracens were continuing to press and probe, but the Exeter defence was not giving an inch, as the chill began to set in.
As the second half got underway, Saracens looked to come out with a renewed intensity, as Louise McMillan charged down McGoverne's clearance.
Not for the first time on the night though, Saracens were let down by their handling, as the Chiefs survived.
Things got worse on the fifty-minute mark, as Leanne Infante looked to be played without the ball. Whilst there may have been contention around the decision, Exeter made sure Saracens were made to pay, as Allen crashed over for her second of the afternoon.
To their credit, Saracens refused to give in, and eventually crafted their second from the maul, as Jodie Rettie muscled over.
Exeter though, would slot a penalty to take the game beyond doubt, despite a surge in the final ten minutes from Saracens.
Industrious carries from Marlie Packer and Sydney Gregson put their side on the front foot, but it wasn't until the final play of the game that Saracens crossed for their third, as Lotte Clapp latched onto a cross field kick from Aitchison for the second time in the afternoon to ground in the corner.
Alex Austerberry was understandably disappointed at the final whistle, as he saw his side come up short on the road.
Attention must now turn to next week and Worcester Warriors at StoneX Stadium, where the side will have a chance to right the wrongs of a chastising afternoon against a clinical Exeter side.