Midge Hartley selected for Invictus Games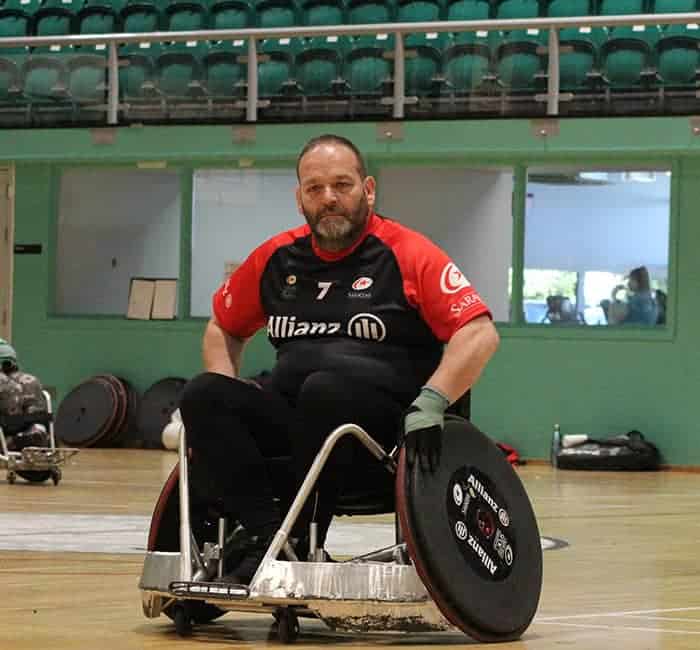 Saracens Wheelchair Rugby Club – in partnership with Allianz player, Paul 'Midge' Hartley has been selected to represent Team UK at the 2020 Invictus Games.
Hartley is part of a 65-strong squad that will head out to The Hague next May and take on teams from 18 other nations including the USA and Australia.
As well as wheelchair rugby, Hartley has also been selected in hand cycling, where he will take part in the Time Trial Criterium.
Hartley, who was diagnosed with Hereditary Spastic Paraplegia (HSP) in 2007, first took up wheelchair rugby in November 2017.
His condition led to his discharge from the Royal Air Force in 2013 and he found that he became less active before trying out wheelchair rugby at an Invictus Games taster session.
"Playing wheelchair rugby has allowed me to regain my confidence and rediscover who I once was. This approach has been highly positive, and I now think more about what I can achieve, and how I can challenge my condition, rather than being defined by it."
He has gone on to represent the UK Team at the Warrior Games in Tampa, Florida, participating in the Wheelchair Rugby, Wheelchair Basketball, Sitting Volleyball and Recumbent Cycling. He has also been selected to represent Scotland at Wheelchair Rugby League.
Hartley credits with Saracens Wheelchair Rugby Club with helping his progression in the sport, saying:
"With regards to my own performance, the backing Saracens and Allianz have provided cannot be emphasised enough. I have improved so much over the last year and the support provided has been a major contributor to all I have achieved this year.
"I have been very fortunate to have been allowed to use my club wheelchair outside of our weekly training sessions. This has allowed me to further enhance my own fitness and chair skills."
"I have improved both physically and mentally and participating with Saracens Wheelchair Rugby Club has provided me with the opportunity to achieve my goals and hopefully inspire others."
To find out more about Saracens Wheelchair Rugby Club – In Partnership with Allianz, head over to the Saracens Sport Foundation website: https://www.saracenssportfoundation.org/our-programmes/disability/saracens-wheelchair-rugby-club-in-partnership-with-allianz/

MATCH REACTION | Lewis Sones (AC Rd 1)
Women's Assistant Coach Lewis Sones felt that his side could take a lot of encouragement, despite an opening round cup defeat to Harlequins. A late surge from Saracens nearly secured the points in a topsy-turvy match, before they were forced to settle for two losing bonus points. Despite the result, Sones was pleased with how […]

World Cup Round Up | Saracens front and centre of thrilling weekend
It was another outstanding weekend of action in France as the pool stages continued with Saracens players featuring all over the country. 10 Sarries took to the pitch throughout the third round of matches and all of them showed their class with some fantastic performances. Marco Riccioni kicked things off on Wednesday as he started […]

MATCH REPORT | Saracens Women 29-36 Harlequins Women
Saracens Women started their Allianz Cup campaign with a narrow defeat as they were beaten 29-36 by Harlequins at StoneX Stadium. Alex Austerberry's side trailed by 12 points heading in to the final quarter but never gave in and almost completed a remarkable comeback but had to settle for two bonus points. It was Quins […]