Owen Farrell: England's leader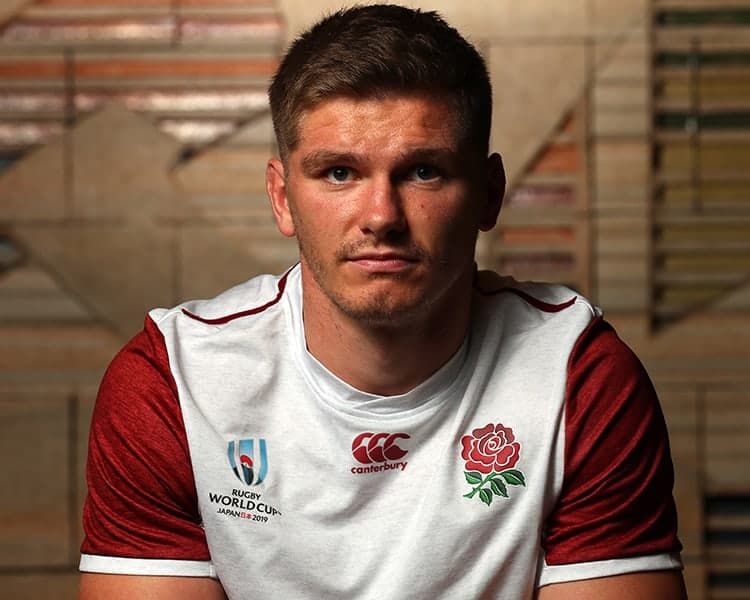 Within five minutes of meeting Owen Farrell, his qualities shine through. Leader. Competitor. Winner.
It seems like he was destined to be England captain ever since he graced the pitch in a Saracens shirt for the first time aged just 17 – the youngest professional player in English rugby union history to make his debut at the time.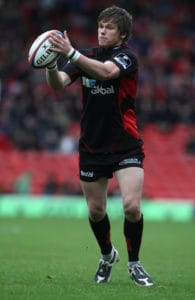 "He didn't dip his toe in at the beginning, he was just present the whole time and when he needed to speak and contribute he did," Sarries backs coach Kevin Sorrell said.
"It can be quite intimidating for a young lad to slot in, talk and guide people around but Owen was more than happy to do that from a young age because of his personality.
"It was pretty clear from then the ability he had as a young lad and obviously that's continued all the way through his career."
Sorrell was Farrell's teammate back in 2008 when England head coach Eddie Jones was at Saracens before progressing into the Men in Black backroom and has known the England fly-half from a young age due to being friends with his father, Andy.
He even roomed with the up and coming star on a pre-season trip to Toulon where he really began to discover how the Northerner's brain ticks.
"I don't think he was too impressed with my snoring!" Sorrell joked.
"As a player, when we had Eddie in 2008, Faz (Andy) was in the squad and the plan was Andy was going to start and little Faz – sorry Owen! – was going to come on but unfortunately Andy broke his thumb the week before so Owen was on the bench against Toulon.
"He's a deep thinker about the game, he's very analytical about it. He likes to look at things and likes to contemplate what's happened or what the possibilities are, where there is opportunity."
Farrell's rise has been meteoric and, despite still being only 28, he has amassed 78 caps and scored 863 points for England.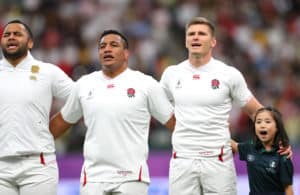 In this tournament, he has contributed heavily defensively and on the front foot just months after his ability as his country's captain was brought into question during the Six Nations.
There is no doubt now, ahead of the biggest game of his career to date, there isn't a better candidate for the position.
His ability to handle pressure, assess situations and lead by example are major contributing factors to England's successful journey over the past four years.
"Owen's trajectory was: first year out of school, he kicks the winning points from the touchline to win our first Premiership title," club teammate and half-back partner Richard Wigglesworth said. "The way he handled the pressure that day, you knew he was always capable of handling it.
"I think everyone is seeing what we already knew, that he's a special person, a special player who only wants the best for his team whoever that is and works incredibly hard to get it. There's not many secrets to what he does. He gives everything maximum effort and attention in improving and getting better; part of that is playing and part of that is leadership.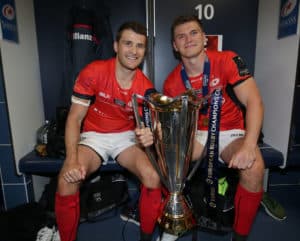 "Everything he does is done to the best of his ability and he thrives under the pressure that's thrust upon him. We've known everything that's been said about him for years and years. If you look back to the Scotland game a few months ago and people were questioning his leadership and we as a group were going 'you… you're mad!', we know exactly what he'll have said and done and now everything is going right for them because of all the stuff that has been put in place and he's obviously the focal point of that.
"Everyone is seeing what we already knew… he's a special leader."
When Farrell was beginning to emerge at Saracens, the generals around him were the likes of Glen Jackson and Steve Borthwick who he could seek guidance from on a regular basis.
Eleven years on he hasn't forgotten his roots with young back Max Malins receiving tips, tricks and advice frequently.
"I came across Owen in what would be my first year in the Academy," he said.
"I was in the Under-18s for our Academy final, he came and did a talk when we were getting our shirts. There's one thing that always sticks out from what he said and I actually heard him say it in the press conference the other day: 'You don't have to do anything differently or anything special, you've just got to do what you do but better' and that's always stuck with me.
"I always think of that when I'm going into big games; it's not about pulling rabbits out of a hat, it's about doing everything to best of your ability."
"He was always destined for it, the character that he is. It's the stage he's meant to be at." - Malins
Malins continued: "A lot of time after training I'll grab him for kicking sessions… out of hand, drop kicks and he's helped me a lot on my place kicks as well.
"After I've played he'll go through games with me and has been a big help. I think he's always been a leader – the way he is, how committed he is.
"He always drives the standards at Saracens and doesn't want anyone not to give their best which I think has paid dividends to how successful this club has been in winning big games. Leadership wise he very much leads with his actions as well as his words. You always know he's going to be on the ball and he's someone to follow into battle."
On his England captaincy, Malins added: "He was always destined for it, the character that he is.
"It's the stage he's meant to be at. Leading England into a World Cup final is definitely something he's dreamed of and done everything in his path to do. It's a massive hats off to him because everything he's done has led to that."
Eight Saracens have been named in England's 23 for this weekend's World Cup final, seven of whom have been in north London between seven years to a decade.
Jamie George, George Kruis, Mako Vunipola, Maro Itoje, Ben Spencer and Billy Vunipola, as well as Farrell, have all grown as individuals on and off the field in that period and Sorrell isn't surprised by their World Class stature which is proving inspirational to the current Academy group.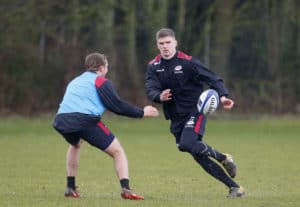 "It's been a brilliant journey for them," he said.
"You saw in 2016 when we won the European Cup for the first time that group of players got together pretty quickly with Andy Edwards (S&C Coach) and had a picture.
"They've shown togetherness and tightness from everything they've gone through as young lads and they're properly ingrained in our way of doing things and how we want to be seen.
"It's brilliant from the standpoint that not only the young lads at the club can see the route they've taken through the team, the apprenticeships and how they've developed but that pathway from the Academy to senior honours is very real if you apply yourself and work hard.
"When people say 'who are your most consistent performers in our team?' it's a pretty easy answer as you can look around the training ground at the end of a session and the boys that are practising their craft and being self-aware of what they need to work.
"It's a brilliant example to our younger lads regards to the hard work and effort those boys put in and the opportunity they have this weekend."