TEAM NEWS | Gloucester-Hartpury vs Saracens Women (AC Semi-Final)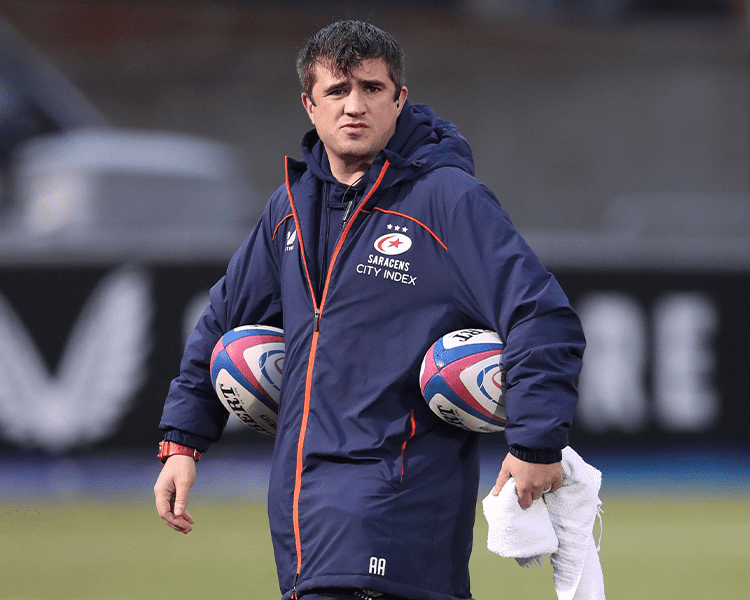 After a month away, Saracens Women are finally back in action, with a spot in the Allianz Cup final up for grabs.
In their path stands the formidable threat of Gloucester-Hartpury at the Alpas Arena, but backrow Sharifa Kasolo feels that her side are in a good place heading into the tie.
"Since we've all come back together, everyone has been buzzing. We've had this final week to tie up a few things and now we're ready to get straight into it."
The cup campaign kicked off in September with a high-scoring defeat to Bristol Bears. That match marked a first outing in Saracens colours for Kasolo and a number of her teammates and she explained that there was now a completely different mindset in the camp, to the one at the start of the season.
"When the cup started, we were a completely new team. A lot of key faces weren't here, but we've had the time now to gel and play together, which has been a massive difference in terms of the mindset."
Despite a number of players away being away on international duty, Director of Rugby Alex Austerberry has still been able to select a strong squad for this one.
Up front, it's an all-international front row, with Maya Montiel and Alex Ellis packing down alongside May Campbell, after she made her England debut last weekend against Wales.
The second row sees co-captain Fi McIntosh joined by Sophie Tansley, whilst Kasolo is part of an exciting back row that includes club stalwart Sonia Green and Sarah Bebbington.
The halfbacks will no doubt bring their experience to proceedings, as Leanne Infante and Flo Williams start alongside each other for the second match in a row.
The centre pairing is also unchanged from the last cup outing against Wasps, with Cara Wardle joined by Sydney Gregson.
In the back three, co-captain Lotte Clapp comes into the side in place of Abi Evans, where she will link up with Isla Alejandro and Katie Johnson.
Amongst the replacements, hooker Hannah Luff could make her debut having joined on loan from Richmond for the club block, with Mica Evans and Jeanina Loyola also primed for their first appearances of 2023.
There could also be a return to action for Taryn Schutzler, who made her club debut in the cup block back in September, whilst young gun Chloe Flanagan will also be looking to make a positive impression.
The backs replacements are Anna Goddard, Lucy Biggs and Sophie Shams.
It's fair to say that it hasn't been the simplest of runs to the semi-final for Saracens, with rearranged fixtures and a new group coming together. Kasolo though, feels that those challenges will help her side come kick off on Saturday.
"It's about adapting to whatever happens on the day. We've had the experience of cancelled games, playing on weekends we weren't expecting too and the weather as well. Whatever challenge comes, it's nothing that we can let faze us."
Saracens Women's Team vs Gloucester-Hartpury
1. Maya Montiel
2. May Campbell
3. Alex Ellis
4. Fi Mcintosh (co-captain)
5. Sophie Tansley
6. Sonia Green
7. Sharifa Kasolo
8. Sarah Bebbington
9. Leanne Infante
10. Flo Williams
11. Lotte Clapp (co-captain)
12. Cara Wardle
13. Sydeny Greggson
14. Isla Alejandro
15. Katie Johnson
Replacements:
16. Hannah Luff
17. Miça Evans
18. Jeanina Loyola
19. Taryn Schutzler
20. Chloe Flanagan
21. Anna Godard
22. Lucy Biggs
23. Sophie Shams