Arrival of Saracens Women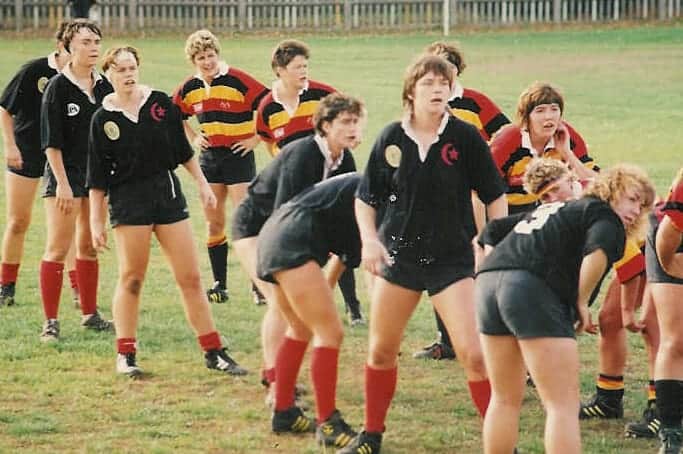 Saracens Women was founded in 1989 by a group of players, five of whom were senior internationals. They were Amanda Bennett (Wales), Liza Burgess (Wales), Emma Mitchell (England), Janis Ross (England), Sam Robson (England), Katie Ball, Maria Anderson and Kate Fullerlove.
The early years saw the women's team work hard to forge a relationship with the one of the country's oldest rugby clubs by volunteering in the kitchen or as match stewards at men's games, and cleaning changing rooms.
Once established, they became an integral part of the club and generated considerable support at their Sunday afternoon matches.
Whilst much is now known about nutrition and post-match recovery, in the 1990s the club would provide a large jug of lager shandy for the team in the changing rooms immediately after each game. This would be drunk as they washed mud off in the huge baths that could accommodate up to 15 people. After the bath, players would head into the clubhouse to share a beer with the opposition over sausage and chips prepared by the redoubtable Chris McGrath, Saracens' long-serving cook who was a passionate supporter of the women's team.
Success for the north London side was swift as they picked up their first trophy after only a year in 1990 at the National Sevens. More silverware followed as Saracens Women dominated the Nineties winning an impressive 17 titles including doubles in 1991, 1994 and 1996, and they became the first team to win the Premiership, Cup and Sevens treble in 1993, a feat repeated in 1998.
Saracens' achievements were recognised in 1993 at the prestigious Sunday Times Sportswomen of the Year Awards when they were nominated for Team of the Year after completing their historic treble that year. They came third behind the British Cycling Team Pursuit team and the British Rowing Pairs. This was the first time women's rugby had been nominated for any Sunday Times award.