Two new debutants in a winning Round 4 vs Celtic Dragons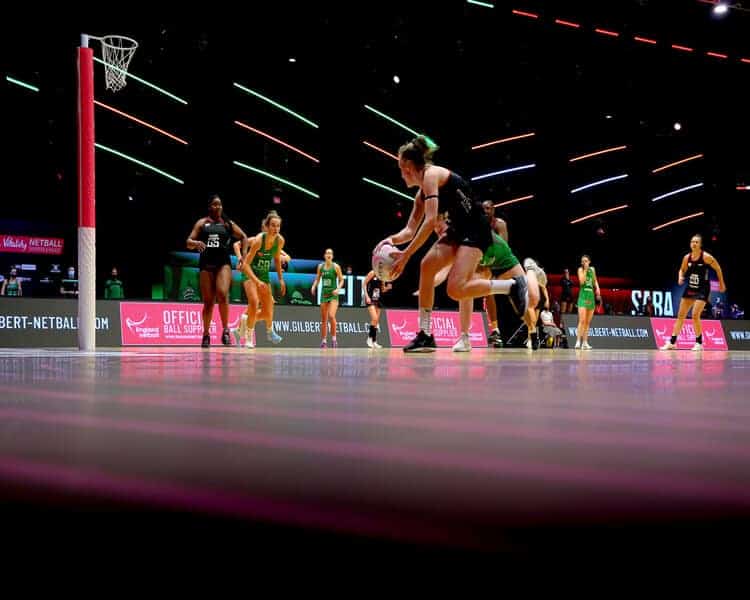 Saracens Mavericks take a resounding win against Celtic Dragons in Round 4 of the VNSL.
Mavericks also introduced Jodie Gibson as Maverick #95, after several seasons out with an injury. Ine-Mari Venter became #96 as she joined Jodie in the starting lineup. The South African international made her VNSL debut tonight after joining the league from Suncorp Super Netball.
In the first quarter, Mavericks built up a strong lead as Venter scored 7 straight goals. This lead was instrumental in taking command of the match. The attacking lineup were tenacious and made their moves seem effortless. With seamless feeding from Georgia Lees and Gabby Marshall, Venter and Kadeen Corbin built up a substantial lead in the first quarter, taking it by 11 goals.
Dragons came back stronger in the second quarter and began to gain momentum. Gibson and Razia Quashie worked tirelessly in defence, creating several turnovers and shutting down the Dragons defence. Although Dragons made a slight comeback and took the quarter goal for goal, Mavericks were in control throughout the first half, with the score being 21-31 to Mavericks at half time.
Changes were made in the third quarter, as Venter and Gibson had to come off due to COVID return to play protocols set by England Netball. Steph Collard and Britney Clarke came on and continued the momentum Mavericks had built up over the first half. The Hertforshire-based side continued to work hard, turning over any opportunity that would increase their lead.
In the final quarter, we saw Sasha Corbin, Chloe Essam and Aliyah Zaranyika take to the court, giving all 12 players the opportunity to play in the match. Zaranyika, although young, made a big impact through her turnovers and speed. The final quarter saw Mavericks increase their lead even further, winning by 20 points with a final score of 41-61.
Georgia Lees was awarded Player of the Match, for her incredible agility, speed and precision on the ball. The Wing Attack is a reliable player on the court and deserved the win tonight.
Photo Credit : Ben Lumley