Under 18s trials at StoneX Stadium!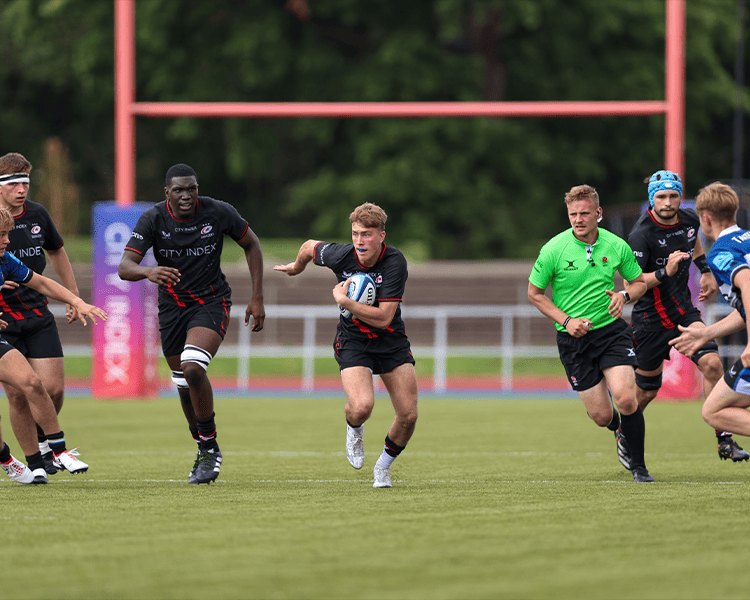 Want to be the next Saracens star? We're hosting a trial day at StoneX Stadium in October to find exactly that!
Jack Pattinson, Under 18s Head Coach is excited to see the potential stars in the group.
"We understand that talent development is a non-linear journey. Players will develop at different rates and at different times. We want to ensure the door is always open for young, aspiring players to come into our Academy. Our U18 Open trial is a brilliant opportunity for coaches and teachers to nominate these players.
Our recruitment model is based around four pillars:
Behaviours: How hard-working, committed, disciplined or tough is the individual?
Skill: What skillset does the individual have? This can be fundamental game skills (i.e., skills everyone needs to play the game, such as catch pass, tackle, carry and breakdown) or positional skills (i.e., scrum half passing, front row scrummaging)
Game IQ: How well does the individual recognise and adapt to the time and space afforded to them? How quickly do they see visual cues or triggers that support their decision making?
Athletic potential: How does the individual physically impact games? For example, top-end speed, acceleration, change of direction, lateral movement, abrasive in contact, set-piece demands such as jumping or lifting in the lineout.
If an individual meets at least one of the above pillars, we would love to see what they can bring to our environment."
Need the info?
Location: StoneX Stadium
Date: Thursday 26th October
Times will be communicated by Friday 13th October players have booked
Nomination window closes Friday 13th October 9am.
Link to sign up: https://forms.gle/DyGykLf1KZ5pcpdF7