ADI Announced as Saracens' Official Big Screen Partner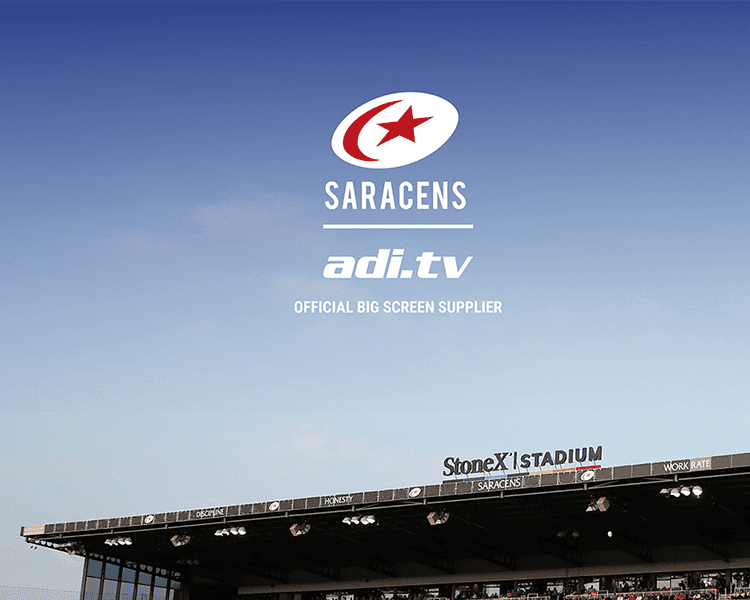 Saracens is pleased to announce that it has agreed a multi-year partnership deal with ADI, which sees them become the club's exclusive Big Screen supplier.
Since 2015, stadium technology specialists ADI have held a strong relationship with Saracens, providing mobile LED screens for competitive fixtures, fan zones and club events. The new partnership will mark the beginning of a new chapter, with ADI named as the club's official Big Screen supplier for all club fixtures and events, including male, female, European and special non-Rugby events. 
With the official partnership commencing ahead of the 2022/23 Gallagher Premiership season, ADI will be working closely with Saracens to refurbish the two existing iCONIC LED screens with the aim of enhancing the overall matchday experience at the StoneX Stadium. One of the new screens will be fully operational for the opening pre-season friendly against Ampthill.
Saracens have enjoyed a wealth of success in recent years, firmly establishing themselves as a major player in rugby union and building a roster of world-class talent following their promotion from the Green King IPA Championship in 2021. After finishing as Premiership runners-up last season, the club is looking to go one better this time around. Off the field, there is an ambition to create a memorable matchday experience for supporters and fulfil its enormous commercial potential through an improved brand activation platform. 
iCONIC Screens
ADI currently has the world's largest fleet of LED screens, with its iCONIC range being used to entertain fans at the world's most illustrious sporting events. Saracens will once again be using the 60sqm and 25sqm screens within the stadia bowl. The company has been providing event screen hire services, sports stadium solutions, live event production and high-resolution digital installations for more than 30 years.
Thomas Taylor added: "It has been a pleasure to work with Saracens over the past seven years and we are pleased to become the club's official Big Screen supplier. They are an ambitious club, who have established themselves as a global brand in rugby union, and the LED technology inside the stadia bowl will improve the experience and commercial offering for both fans and sponsors. I'd like to personally thank Herman for his continued support over the years and look forward to working closely with him in the future."
Herman Beetge, Head of Match Day Operation, Production & Broadcasting at Saracens said:
"At Saracens we are constantly looking to improve and evolve our match day experience, and this partnership with ADI will be another key component in that.
They have made a great impact over recent years at StoneX Stadium and we are incredibly excited to built on that moving forward as we look to make Saracens the best place to watch rugby in the Gallagher Premiership."