Austerberry keeping feet on the ground after strong start to 2022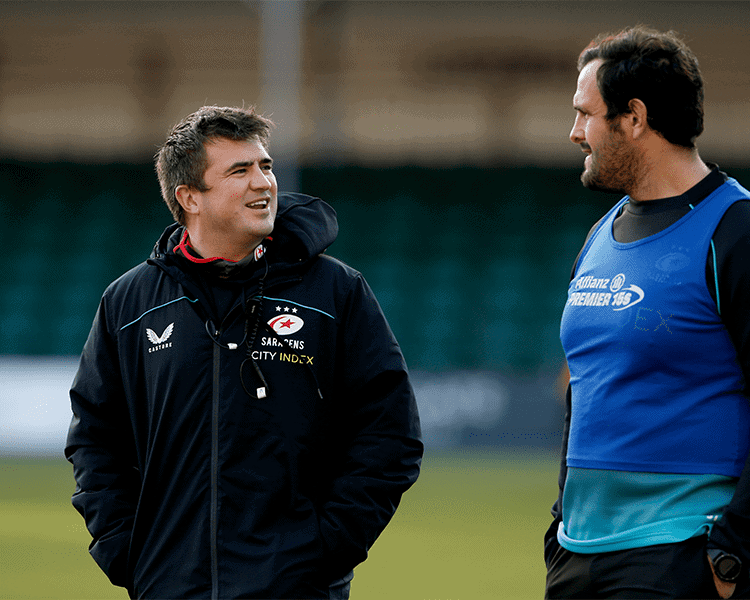 Alex Austerberry isn't going to complain about a perfect '15 out of 15' points return from his side's post-Christmas return to the Allianz Premier15s.
It all started with an enormous 104 points against DMP Durham Sharks and then built into an excellent bonus-point win at Loughborough Lightning. He got more of the same in Saturday's away win at Sale Sharks.
Never one to get ahead of himself, and all for keeping his team's feet firmly on the ground, Austerberry has been focusing on the week and game ahead, rather than allowing himself, or his players, to get caught up in the hype that is inevitably going to surround the return fixture with Harlequins on 5 February.
While the 'Women in Black' have been back on top of the table in recent weeks there will be a need to be at a peak at The Twickenham Stoop in a few weeks' time. Losing to the Quins in last year's final was bad enough but losing this season's unbeaten record to them at home in December was another kick in the backside.
Seeing Exeter Chiefs beat the Quins with a last-minute penalty last weekend was a bit of a help, although Austerberry reckoned it will only fire them up even more for the 'Game Changer'.
"The perfect scenario for us would have been a 17-17 draw to keep Exeter Chiefs a bit further away from us, but we can't complain. After our defeat to the Quins their defeat gives us a lifeline," said Austerberry.
"We bounced back against DMP Durham Sharks and then backed it up last weekend at Loughborough. That was a tough test for us and a few dropped balls when we could have scored made it a bit harder for us.
"15 out of 15 points post-Christmas is a good return, especially as Loughborough are getting back to their best form. They showed that by beating Bristol Bears.
"Now we are looking for a more solid performance against Worcester Warriors to take us into the return game against Harlequins on 5 February. But that game isn't in our thinking at the moment."
Saturday's game was played on what should have been a free weekend and Saracens had to make do without their three Welsh internationals, Donna Roe, Georgia and Kat Evans. They were all in a pre-agreed camp.
Rose made history this month by becoming one of the first dozen fully professional Welsh women internationals, while the Evanses have been given retainer contracts,
"We also lost a couple of players to the Scottish camp along with our Welsh trio and so this weekend has all been about strength in depth. I was delighted to see Donna being offered a professional contract by the WRU and that reflects well on both her and the club," added Austerberry.
"When she first joined us, she was a back row forward and we convinced her to move up into the front row. With a lot of help and support from the club, and a huge amount of personal commitment, she has developed into a first-class international tight head prop.
"This is a huge step not only for the game in Wales, but also for women's rugby on the whole. There are going to be a few teething problems, but it has been great to talk on the phone with the Welsh coach Ioan Cunningham about workload for the girls and what he expects from them."
The return of club captain Lotte Clapp in recent weeks has been a huge bonus for the team, while the signing of the USA Olympian, Alev Kelter, for the rest of the season is another major boost. She represented the USA at the 2016 and 2020 Olympics and also played at the 2017 World Cup.
"Her physical attributes are amazing, she can kick off both feet and she is confrontational. The experience she will bring to the group, along with the competition she will offer in the midfield, is fantastic."