Being a Barbarian is like having a clean slate - Casey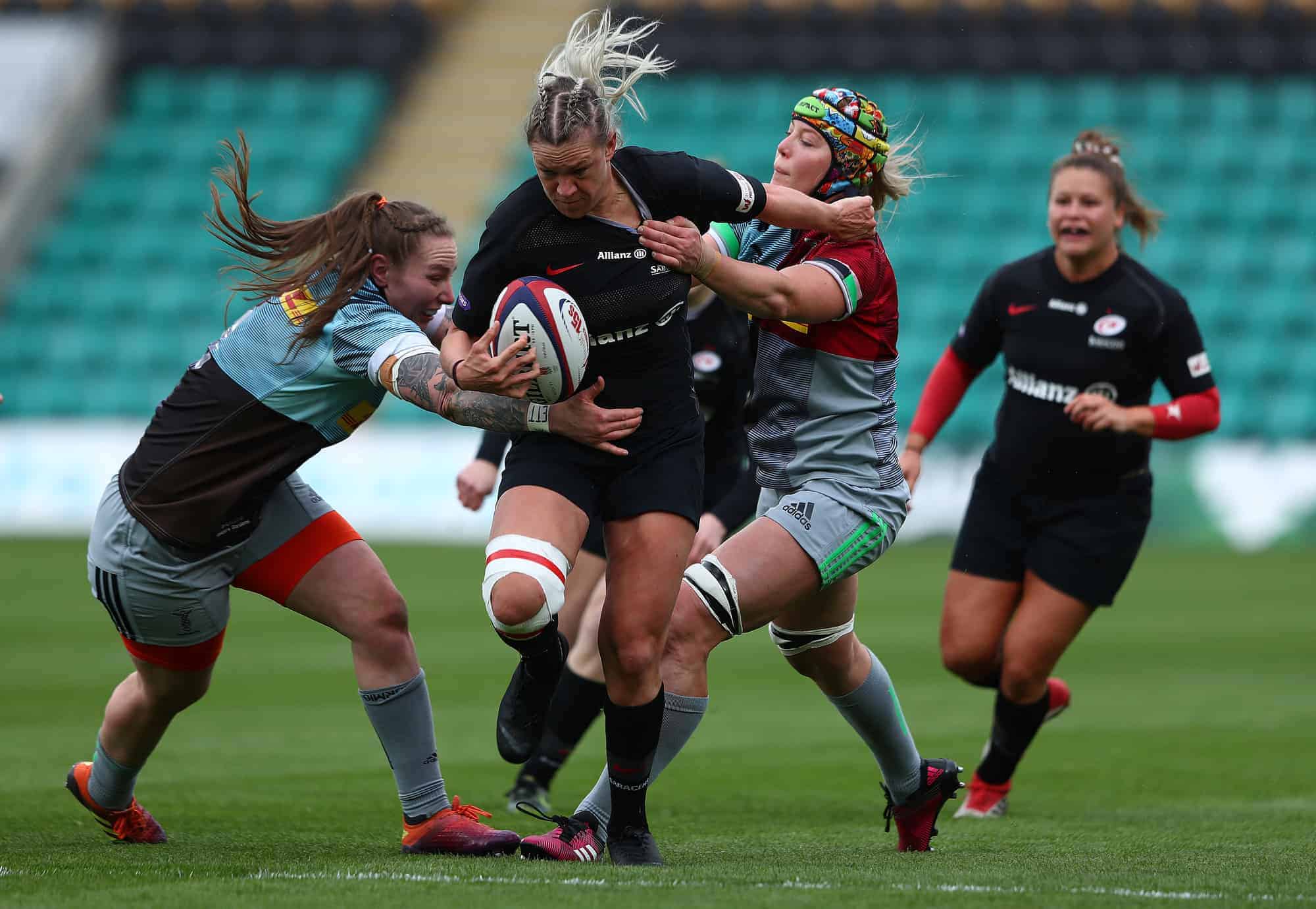 Hannah Casey was one of the standout players as the club retained its Tyrrells Premier 15s title.
The hard-running centre made an impact in both attack and defence, with her efforts recognised behind the scenes by her fellow players and the coaching staff.
Earlier this month the Ireland international was one of two Saracens Women players, along with Georgie Gulliver, to run out in the famous black and white jersey of the Barbarians against England Women at Twickenham.
She was approached by Fiona Stockley after the TP15s Semi-Final win over Wasps FC Ladies and while she was taken aback by the offer, there was no question in her mind of accepting the opportunity.
"To get to play in the historic doubleheader at Twickenham was just mind-blowing. I was extremely excited but also so nervous as the Barbarians are a team of high calibre players from all over the world and I didn't want to let anyone down.
"To be included in this set up was a massive honour and to be playing at Twickenham stadium again five years on was just surreal."
Match weeks with the Barbarians are just as well known for their preparations off the field as on it, and Hannah's week was no different.
"It lived up to expectations. When we met on the Monday, we had our inductions and then went out as a squad for dinner and possibly a couple (or more) drinks to get to know each other.
"The next day after a double training session we met up with the men's team for a few pre-drinks before going to dinner. We had to sit at mixed tables so Richard Hibbard and Joe Marler had the pleasure of mine, Nolli (Danielle Waterman) and HK's (Heather Kerr) company.
"It was amusing getting to know them and them us in return, I don't think they knew how to take us or our dry cutting humour, but we did have a laugh and more beers!"
The Barbarians team was made up of players from all across the globe including New Zealand, France, Sweden, England, Wales and Ireland.
However, the special nature of the Baabaas means there were no clash of cultures and gave Hannah a unique experience that many players could only dream of.
"The special part was getting to know the other players and stories of their rugby journeys and how they came to be a Barbarian."
"There is so much passion within rugby and at international level, it is a roller-coaster of emotions, so to hear about others highlights as well as tribulations was very moving.
"Being a Barbarian is like having a clean slate. Nothing previous matters because you are playing for the pride of the shirt and those players around you.
"Also, special shout out to my fellow black sheep Justine Lavea. Her spirit and energy lifted everyone in camp and I made a friend for life!"
The match itself was a bit of a Saracens affair with six Sarries players in the England Red Roses team. While it can be an odd experience to be in opposition to club teammates, for Hannah it was simply a case of playing them in the same way she would anyone else.
"I have huge respect for my Saracens teammates but at that time they were the opposition and I wouldn't go easier just because I know them. It was nice at the post-match meal as we integrated with the England team and I was back sitting with the Sarries girls having a catch up with Rosie (Galligan) and (Sarah) McKenna."
The match at Twickenham was the culmination of a season that saw her return to Saracens after a short stint away from the club.
Even with the sense of familiarity though there's always some trepidation when you come into a playing group. Especially one so used to success.
"At the start of the season, it was slightly daunting getting back into the swing of things and learning the way my teammates played. It did make it easier knowing most of them already as it wasn't a new club just me returning after a break."
"Obviously being Premiership champions the year before there was a slight pressure and determination from everyone to maintain performance and keep building towards something remarkable."
"I was delighted to be a part of that and see the progress everyone made individually and as a team, it was something special and to top it off we did the double! So, to say I enjoyed it is an understatement!"