Eight named in Red Roses Squad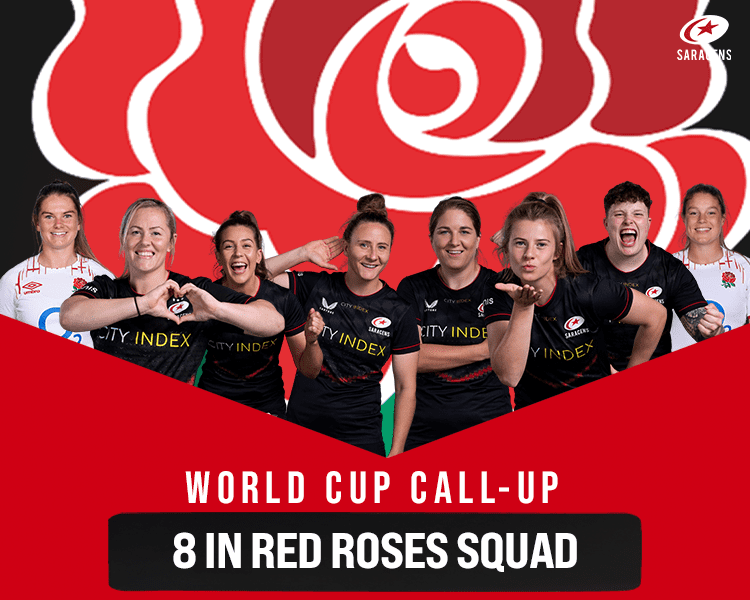 A magnificent eight Saracens will be heading to the World Cup with England, after Head Coach Simon Middleton announced his squad this morning.
Recent signings Leanne Infante and Jess Breach are joined by Saracens stalwarts Hannah Botterman, Poppy Cleall, Marlie Packer, Holly Aitchison, Zoe Harrison and Sarah McKenna.
The squad will be captained by Sarah Hunter and includes six players who were part of the 2014 World Cup winning squad.
19 members of the group are set to make their maiden World Cup appearances in New Zealand, with England facing Fiji, South Africa and France in Pool C.
Speaking after announcing the squad, Middleton was pleased with how the group was evolving. Despite big victories over the USA and Wales in their recent warm-up fixtures, the Head Coach is still expecting his side to keep improving.
"We are really confident with the balance of the squad. I am pleased with the way the team is gelling and how our game is coming together. There is still plenty to work on, we expect to improve game-on-game."
Such is the strength in depth within the English game, Middleton has been forced into some tough decisions when it comes to selections. He was though, completely confident that should he need to call on another player, they will be able to step up and do the job.
"There is not one single player in the wider squad who hasn't given their all. Nobody has given less than their absolute best, they should be proud of their efforts throughout the team's campaign to date. If between now and the tournament, or during the World Cup, we have to call anyone up, we can do it with 100% confidence that we are bringing a top player in."
The focus within the England camp now will firmly be on their World Cup opener against Fiji on October 8, before a clash a week later with France that will go a long way to determining how their World Cup pans out.