Feature Interview | Jamie George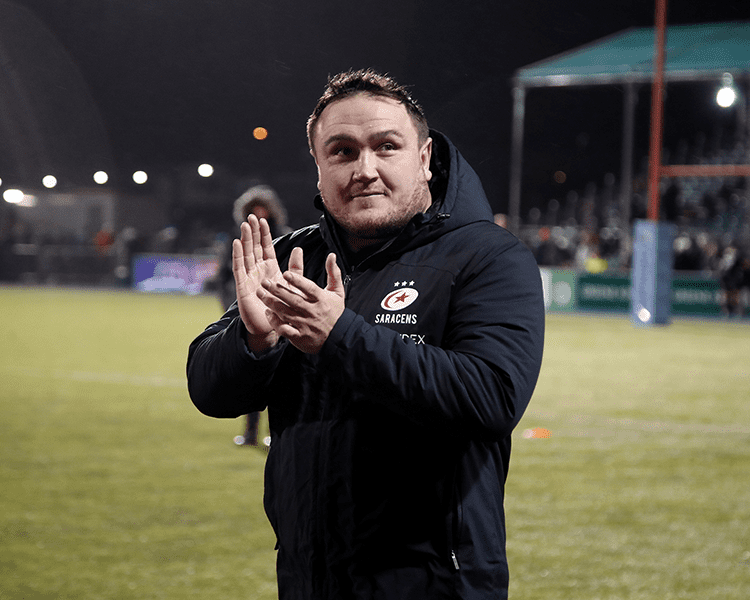 JAMIE GEORGE epitomises all the values Saracens are built on but there is one  that sums him up, it is resilience. 
The Sarries, England and British and Irish Lions hooker has been there, done it and got the T-shirt.
You don't play for your country, make three Test appearances for the Lions and play for one of the most successful clubs in Europe without being resilient, let alone being good at what you do.
George, 32, is about loyalty to the club that has shaped him and given him an opportunity to achieve what he has in the game.
He signed a new contract recently and when Saracens were relegated there was no question of him abandoning ship when the waters got choppy.
Not his style at all. The 264 appearances for the club are a symbol of what he has given the club but he acknowledges his values were ingrained in him as a youngster in the Saracens Academy.
"You see the values here at the stadium, and they are hard work, humility, discipline and this is a club based around people and caring about people," said George.
"Those values create the environment and for me to be my best. We are about people here, day-in and day-out, and that is not just the players and coaches, but the backroom staff and all the staff behind the scenes.
"There has not been one second in the 14 years I have been here which I have not enjoyed. We have had our ups and downs, but I have enjoyed every second of being at Saracens. 
That is some statement indeed, but demonstrates how much George believes he owes his success to all he has learned at Sarries.
In the professional era, George is rare being a one-club-man. Players follow the money and want to experience rugby around the globe but Saracens runs deep inside him.
As five-year-old, George would travel to watch his Sarries heroes play and then graduated to the Academy, the A-team before making his full debut in 2009.
 "I was just brought up on it and am a product of the Academy and the environment that is here," said George.
'Part of me still can't believe that I am here because I was the five-year-old kid at Vicarage Road watching Richard Hill and Tony Diprose.
"I still have to pinch myself that I play for Saracens but that's why we all make the sacrifices we do. 
"I think it's just ingrained in us at the club. The Academy is the main reason why we do what we do and why we are the people we are.
"It's just the way we are brought up here and it's why we care so much and out our bodies on the line for the club."
George's time at Saracens has been dominated by silverware as the club has swept all before them on the domestic and European front. Sarries are now ranked alongside Toulouse and Leinster as one of the powerhouses of European rugby.
The England hooker has won five league titles and three European Cups in his 13 years at Saracens, but perhaps the real test for him was when the club was relegated.
"Look, there were challenges and we did have to reset," said George.
"Some people said some pretty horrible things about us as an organisation but all of us stuck together - coaches, players and staff - and proved how passionate and how much we cared about the club.
 "It was a challenge but the success we had bouncing back and how we are now is sign of the togetherness and the spirit of the club."
George makes no bones about one of the biggest influences on his career and that is Mark McCall, the Saracens Director of Rugby.
'Signing the new contract was all about being and staying home and having that passion for Saracens and the people in this organisation," said George.
 "I said to Mark, a couple of weeks ago, that I would not be the player or person I am without the influence of him or the coaches here.
"They have made me an international rugby player, with the world class standards they drive and demand at Saracens. Mark still has that incredible passion to want to be the best and he passes it on to the players and he is a huge reason why I stayed. It is infectious."
 But what about the young Jamie George, what would he make of it all?
"What would I say to five-year-old me at Vicarage Road?," said George.
"I would say you are going to have a really exciting journey, with some ups and downs, meet some great people and have some huge experiences."