FEATURE INTERVIEW | Kelly Brown discusses road to recovery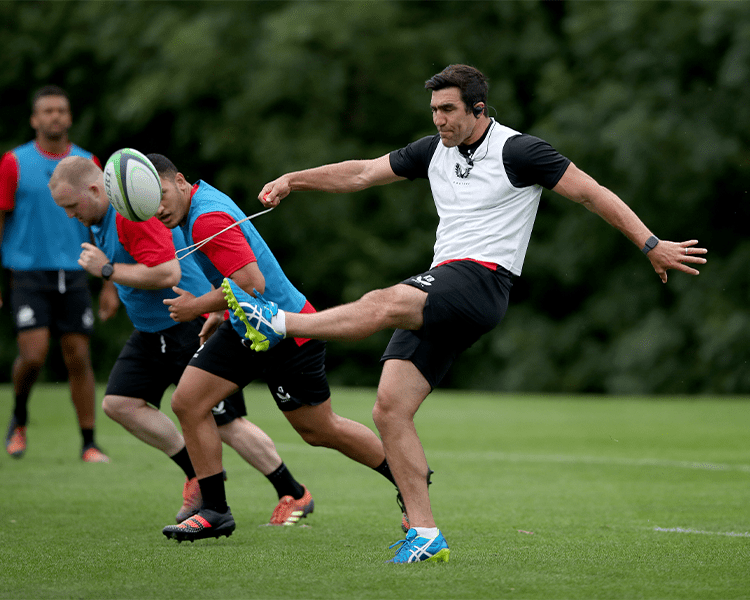 Saracens coach Kelly Brown has been missing from the heart of the club in recent months after a nasty accident. The good news is that he is almost fighting fit again and can't wait to get back into the full swing of his day job.
We checked in with him to see how he is, and this is what he had to say as he explained what happened, how his recovery has gone and what he is looking forward to. Kelly may have been to hell and back, but he is ready to return to the club he loves so much.
"It has not been the dream return to Saracens I was hoping for on a personal level, but it has been a great reminder about what a special club and what great people are at the club. 
Many of you will be aware I was involved in a pretty horrific car accident while I was riding my bicycle more than a month ago but the support and care I have received from the club has been overwhelming and a perfect reminder of what the Saracens family is all about. 
For those of you who don't know about the accident, I fractured my kneecap and suffered two very deep cuts on both knees and the force of the impact cracked the helmet I was wearing. Even a part of my eyebrow is missing due to the accident.
I have to pay tribute to the staff at the Trauma Unit at St Mary's in Paddington for the great care they took in looking after me and plastic surgery team for the great work they did on my butchered knees. Thank you to all of them.
My family, of course, have really looked after me during a very challenging and uncertain time and the support we have had from the club, including a wheelchair, and the number of visitors has been a great reminder of what special people are at Saracens. 
The last six weeks have been incredibly tough, but I am slowly recovering and hope to be back at the club soon. It has not been an ideal return and it has been frustrating, but I really want to repay everybody for the support they have given my family and myself. 
Everybody knows what I feel about the club, and I do love Saracens, having played there, won trophies there and been part of its success and history. So, coming back means a lot to me and it's a special to be back and does come with a huge responsibility. 
Knowing the coaches, the players and the staff really helps, and my current situation has underlined what special people are at the club. The overwhelming factor that hits you when you return is the desire to be successful. 
The standards and the drive to improve, to get better and to achieve are really embedded in the club. It is the driving force of everything and everybody at Saracens. 
We have so many coaches and players at the club who have achieved so much in the game and are, quite rightly, regarded as already being successful but the hunger to achieve more is what marks all of them out. 
Even as a coach at the club now, players are never afraid to challenge you and push you and that has been key to the environment at the club for as long as I can remember. 
Obviously, knowing all about the Saracens culture has given me a head start and when I coached the Under-18s a few seasons ago making sure the young players were steeped in that was a part of my role.
We all know we have great players at the club but they all understand how unique and what it means to live that culture. We have the largest number of senior academy boys now attached to the first team and we make sure they are educated in the Saracens culture and that it is a living and breathing history to inspire them.
That culture is what make Saracens such a special club and is why we all want to be a part of it.  I just want to play my part."