Gregson thrilled to be back on the field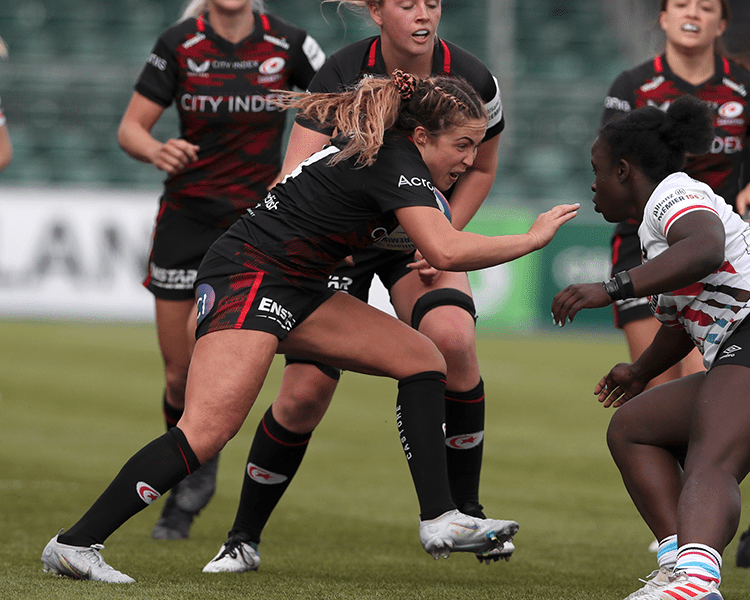 It may not have been the result the side wanted to start the season, but for Sydney Gregson, it was an achievement to just be back out on the field, after thirteen months on the side-line.
The winger suffered a serious injury over a year ago, that saw her ruled out with ACL and MCL injuries, amongst other things.
Gregson admitted that the last year spent in the rehab room had been a huge challenge, with the emotional challenge of recovering from such a serious injury having taken its toll.
"Rehab for the injury has been the biggest challenge in my rugby career so far. There's been so many tough days and it's been a really long process. It's taken a lot of mental toughness and resilience to overcome."
Having shown huge resolve to return to match fitness, Gregson couldn't help but let out a smile as she ran out onto the StoneX pitch against Bristol.
Speaking about her emotion's pre-match, Gregson explained that whilst she was nervous ahead of kick-off, it was the support of her teammates that helped her brush off any doubts in her mind.
"I was feeling pretty nervous. I think coming back from a big injury is tough mentally and confidence wise," she explained. "But being back with the squad was special and made all the hard work worth it."
The result may have slipped away from Saracens at the weekend, with Gregson acknowledging that her side only "showed glimpses of what we can do." However, just being able to be out on the field was an achievement in itself. For Gregson, she highlighted how it was a somewhat strange feeling to be back at the ground as a player, rather than an injured squad player.
"To run out at the StoneX again was an amazing feeling. I've been so used to being there to support the girls as an injured player, so it almost felt a bit weird to be there to actually play again!"
With her injury nightmare behind her, Gregson will now be hoping to push on and make up for lost time, starting with an opportunity away at Sale in three weeks' time.