Help choose the 2024/25 Saracens Away Kit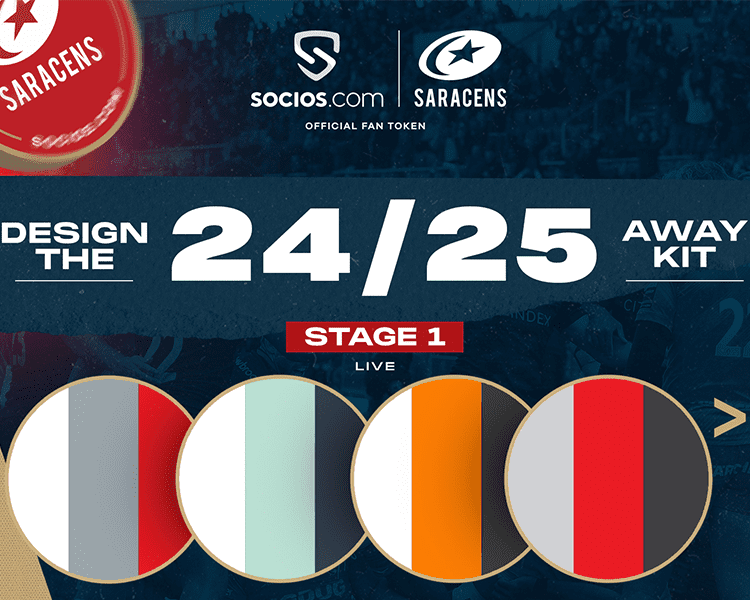 Socios are giving you the opportunity to decide our 2024/25 away kit!
The design of the kit will be broken down into 2 votes on the Socios.com app. First as part of the in-app poll launching today you will get to choose the colour scheme of the kit. Once the colour has been decided, we will then give you the chance to choose the final kit design for the 2024/25 season via another in-app poll later in the season.
Taking part in the poll is simple:
Download the Socios.com app

if you don't have it already.
Get a SARRIES Fan Token, to vote you only need one.
Vote on your favourite kit colour scheme via the in-app SARRIES kit poll.
The first poll will be open till the 31st March 2023. Make sure to cast your vote before it closes and have your say on the 2024/25 season away kit design!
Getting Fans Closers
This poll is just one of the many ways Socios is helping fans to get closer to the club. Since the launch of the partnership, Socios has helped fans to choose the name of the new West Stand at the StoneX, now the 1876 Stand, decide the new victory song for the team and reward fans with amazing experiences like VIP matchday experience and the chance to meet and greet the players.
Fan Tokens are a form of cryptoasset. To acquire Fan Tokens, you must download the Socios.com app and purchase our native cryptocurrency which can then be exchanged for Fan Tokens. Please note that (a) the value of cryptoassets is variable and can go down as well as up; (b) cryptoassets are unregulated in most markets, including the UK; and (c) CGT (or similar taxes) may be payable on any profits made on the sale of cryptoassets. You should carefully consider buying or selling cryptoassets as it entails risks and could result in a complete loss of funds. Fan Tokens are not suitable for those under-18. For more information visit www.socios.com.