Jackson Wray: Why I'm staying at Saracens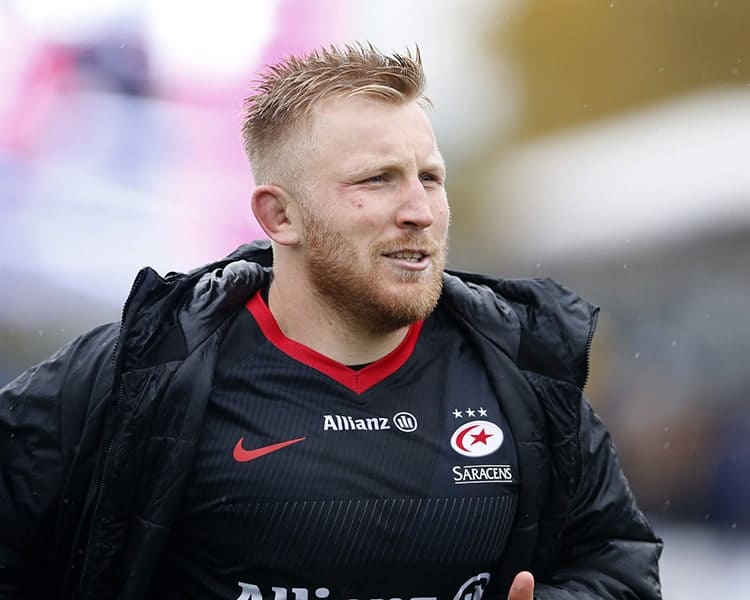 The thought of leaving Saracens never even occurred to Jackson Wray following news of the club's relegation to the Championship.
His declaration of loyalty comes in a turbulent year for the Men in Black, with demotion to the second tier confirmed in January.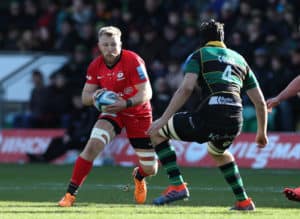 Wray has experienced many highs and lows during his 15 years in north London since starting in the Junior Academy, and although the latter has outweighed the former in 2019/20, departing the club he loves was never an option.
"I love it here," he said. "I love working with all the lads that are here. I love the environment and how the club looks after people. My family are happy, my kids are happy, and I just love what the place is about.
"The people are what make the club special. I go to work every day enjoying what I'm doing, testing myself, always feeling like what I do is appreciated and when I'm not doing things well how we go about it.
"The environment and how the lads enjoy time together is great. People say about it being a family and we actually are. I spend so much time with the lads at the club and away from it too that it is an absolute no-brainer for me to stay.
"Winning trophies has been brilliant and what comes with that, but off the field it's everything we do. We do a lot together and after you win or lose it's making sure you're tight and we've always been that way.
"The people are what make the club special. I love working with all the lads that are here."
"It's a proper family. The closest friends I have are the ones I've known since I was 14 but I love spending time with all the boys at the training ground, and then away from that the time with our families.
"It's just a great place to be."
Disappointing, angry, upset and annoyed are among the words Wray has used to describe the rollercoaster of emotions he has felt since the salary cap verdict.
However, together as a group the players have had time to digest, talk through and move on and Wray is now looking to the future which will see a number of young players progress into the first team.
"Obviously it was disappointing when the news broke," he said."Right now, I'm over it with all that is going on now. I'm just looking forward to kicking on next year physically and maybe help the body by not playing 30-odd games a season! It'll give my body a bit of a breather and I'm looking forward to it."
Wray continued: "There will be a lot of opportunities for young guys to have a base and really kick on next year.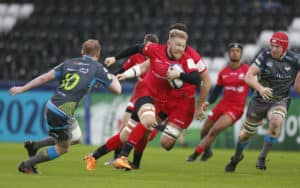 "They'll get a lot of experience of prepping and reviewing week-to-week and will be some of the main guys doing what they need to do and that will be good for a lot of people. I'm excited to see how good they can become and how good they will be from that experience."
A positive from the current campaign has been the exposure of first team rugby for many at Saracens in their late teens and early twenties.
The likes of Brad Barritt, Richard Wigglesworth and Wray have been tasked with leading the troops on the field, a job the Sunderland-born backrower has enjoyed, and that has created some fond memories.  
"Leading a young group has its challenges," he explained. "I've just tried to be a calming influence on the lads and try to motivate them through actions but also through words as much as possible.
"It's about trying to bring the best out of a really talented group that can really kick on. At times we've had to really dig in and we've had some really difficult games like Racing 92 away, a really difficult place to go with a young team.  
"Obviously Wasps more recently wasn't a great night for us but you have to have context in your head that these guys are doing as well as they can and it's about relaxing them as much as you can to bring the best out of them, because the best of them is more than good enough.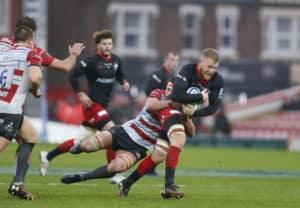 "I've just tried to be that person who can do that in the week in training, the build-up to games and during games, trying to be that calming influence that can allow them to perform well."
On memorable games, Wray added: "Gloucester game was great after we got deducted points. Going down there and beating them was fantastic and a real performance; we fought for everything and were under pressure from the crowd and the media.  
"I'll never forget that game. That really stands out for me as a highlight this season in terms of how we came back from that.
"Also, Munster away, although we didn't win, we went to Thomond Park, we fought unbelievably hard with a young, unexperienced team, and that for me is another game I'll remember.
"When we're in adversity, when we're under pressure… Ospreys away going down to 14 is another. We went down to 13 for a period and beat them away. All similar moments."
"To almost to be at 250 is great and I'd love to play just as many times as I can for this great place."
Wray is currently recovering from concussion sustained in the penultimate fixture before the postponement of all rugby activity until at least 20th April.
Both his injury and lack of upcoming games has put a hold on the backrower's climb to 250 Saracens appearances, a landmark he is excited about making.
The 29-year-old graduated from the Senior Academy in the Class of 2008 alongside Owen Farrell, Jamie George and George Kruis, and is proud to have played his part for more than a decade.
"That's a long time, you're making me feel very old!" Wray quipped.
"I am so looking forward to making it to 250, it's a brilliant milestone for anyone and I'm very proud to have played as many games as I have. 
"To almost to be at 250 is great and I'd love to play just as many times as I can for this great place. Hopefully I can do that over the next few years and do what I can to make this place as good as it can be."