It's great to have close games and be challenged - Knight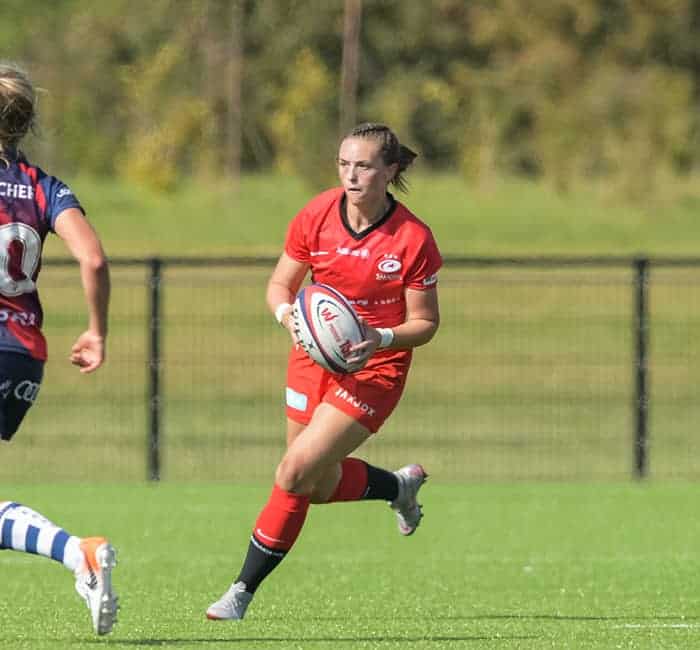 Jade Knight has been ever present for Saracens Women throughout the opening six rounds of the Tyrrells Premier 15s this season.
Saracens have started the season with six wins from six, including hard fought victories away from home against Loughborough Lightning and Bristol Bears Women.
However, the scrum half feels that the current break in the league for the November internationals has come at a good time for the whole squad.
"As a squad, there are lots of new combinations and we are yet to give the performance in a game that we are capable of.
"For us this break has come at a good time as it will now allow us to work on the aspects of our game that we need to improve on and look to demonstrate this in the next round of games."
"Coming off the bench is just as important as starting"
One recurring theme in the opening block of matches has been Saracens ability to grind out wins. Against Bristol, Saracens scored 17 points while down to 14 players and against Loughborough they came back from 17 - 0 down at half-time to win 28 – 24.
"In the closer games the girls seem to come more alive on the field. It's incredible to be in a team who have this ability to not give up and the desire to win, which is probably best demonstrated with the late try to win the game against Loughborough.
"Overall, it's great to have these closer games and to be challenged. More of those games will hopefully make women's rugby more exciting to watch. Importantly it will now help us kick on to improve for the next few games."
Knight has shared the starting nine jersey with Eloise Hayward this season, with both scrum halves starting three matches.
While that might mean a player can struggle to establish new combinations, in particular with their fellow half-backs and with the backrow, the Welsh international knows that tactics have played a role in those selection decisions.
"We both play the game differently so sometimes the starting nine might be better for that particular game plan.
"Coming off the bench is just as important as starting. For me it's been a case of remembering that and just adjusting the role I play when I do come off the bench."
The two scrum-halves get on well off the pitch and work closely on it to improve each other's games. While it would be understandable for there to be tension between the two, both players know that the competition brings out the best in them and that will only help the team in the long run.
"We get on absolutely great! We both ultimately want that starting nine jersey, but it doesn't get in the way of our friendship.
"We've spoken about it and we are grateful for the competition between us at the club as it will help us both push to become better players.
"There are certain aspects that I'm better at and then there are others that Elo is. We are willing to help each other out to develop each other.
"Even though Elo and I compete with one another, I still back her and want her to play well when she gets on the field."

Mavericks Pathway Preview | Akinyemi Excited for Season Opener
Summer signing Peace Akinyemi is raring to go, as she looks to make her first appearance in Saracens Mavericks colours this weekend for the U21s side. Akinyemi is a young defender with plenty of promise and she explained her excitement at linking in with a new squad. "I'm very excited. Mavs is a new style […]

Discipline Update | Zoe Harrison
Saracens Women's fly-half Zoe Harrison has received a one-match ban, after being cited against Trailfinders Women. Harrison was cited for hair pulling or grabbing, contrary to World Rugby Law 9.27, during a game against Trailfinders Women on 25 November. She received a yellow card for the incident in the 36th minute of the match. The […]

TNT Sports to show Saracens Women vs Bristol Bears
The TNT Sports cameras will be headed to StoneX on 23 December, as Saracens Women take on Bristol Bears in the Christmas Cracker. Premiership Women's Rugby has confirmed a Christmas double of live Allianz Premiership Women's Rugby action on TNT Sports with matches on both 23rd and 30th December. The clash between last season's semi-finalist […]