Maro Itoje launches 'The Pearl Fund'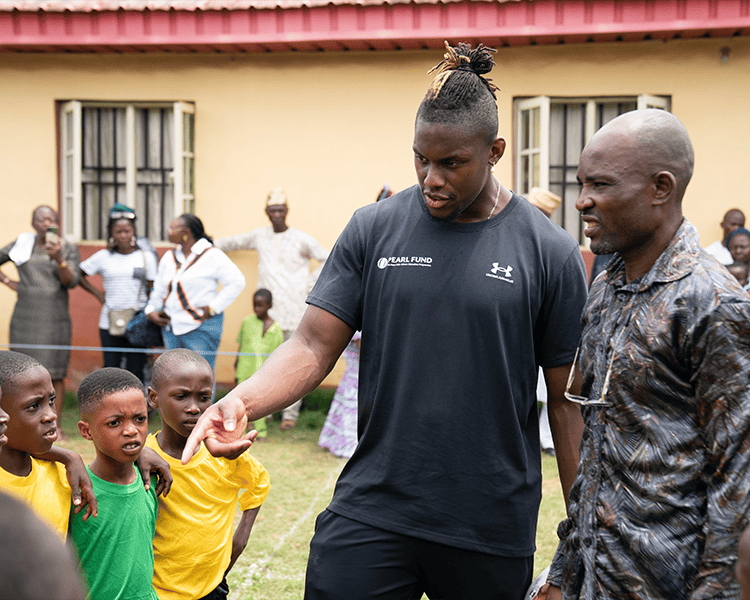 Maro Itoje

is proud to today launch The Pearl Fund: The Maro Itoje African Education Programme. 
The fund aims to generate a multi-million-pound investment in the education of children in Nigeria and wider African countries, offering long-term support to help break the cycle of poverty. Donations will be given with Stewardship here.
A third of Nigeria's population (70 million) live in extreme poverty, with 20 million children out of school – of which 60% are girls. The fund will be for a new cohort of 40 children from one of Lagos' most deprived areas to start school annually. Their entire education will be financed 'from cradle to college', at schools that provide the same quality education as provided by the UK state. There is a particular focus on ensuring orphans and fatherless children complete both primary and secondary school education irrespective of their parental losses.
For those who complete secondary school education and wish to enter economic life through entrepreneurship, The Pearl Fund will look to support them pending approval of their business plan. An additional programme in Nigeria will focus on the town of Eku where Maro's parents are from, to support those who have successfully completed primary and secondary education but can't afford university or vocational training.
The Fund will also fundraise for World Vision education projects in Ghana.  Programmes like reading clubs, advocacy classes and mobile libraries will be secured for young people. Both areas of funding – in Nigeria and Ghana - will also have additional sectoral programmes embedded around them, such as economic support for their family, improved nutrition, and access to clean water.
Speaking of his inspiration behind the launching the fund, Itoje says: "Nigeria is a country close to my heart. It's where my family and I originate from, and I've spent a lot of time there over the years as my ties remain strong.
"I believe in the potential of the country and its people despite the many challenges they face. The Pearl Fund aims to unlock the boundless potential of Nigerian children, so that access to quality education will give them the opportunity to break the shackles of poverty and create a more prosperous and fulfilling future for themselves and their families.
"Being able to grow the impact of this work by also fundraising for World Vision UK's work in Ghana is an incredible opportunity."
Donations will be made with Christian charity Stewardship and the funds will be split with 70% going to CDLi, a charity that supports education in Nigeria, and 30% going towards World Vision UK education projects in Africa.
Mark Sheard, CEO of World Vision UK, says: "When children are denied an education the odds are already stacked against them. They are less likely to secure a quality job, their earning potential significantly decreases, and it prevents them from lifting themselves, their family, and the wider community out of poverty. They are also at greater risk from harmful practices such as child labour and early marriage.
"World Vision are experts in giving children the tools they need to thrive and understands the essential role that education plays for them to succeed. We're thrilled to have Maro's support in fundraising for our education projects in Ghana and looking forward to seeing how he shapes his own work with The Pearl Fund in Nigeria."
Born to Nigerian parents who moved to the UK, the importance of education has long been instilled in Itoje, 28. After attending Harrow School, Itoje's rugby career took off and he made his debut in the England squad at the 2016 Six Nations – where he has remained a leading figure ever since. The same year – whilst studying for a politics degree from the School of Oriental and African Studies – Maro guided his team, Saracens, to victory in the Champions Cup and was named European Player of the Year. His team nickname 'The Pearl' inspired the fund's name.
Off the pitch, Itoje is a dedicated philanthropist and activist, and regularly advocates for improvements and equality in the education system in the UK. The Pearl Fund in partnership with World Vision UK is born of the belief that quality education is a right for every child, worldwide.
Itoje says: "I have had the pleasure of witnessing several charities in operation, and whilst they have a positive impact, the benefit is often only felt during that short period of time beneficiaries spend within the programmes.
"The Pearl Fund is looking to have a real impact on the lives of the children that it touches through quality education, where a long-term commitment is made to help them escape the cycle of poverty. This means children can fulfil their true potential and never limit their ambitions.
I look forward to working with CDLi and World Vision UK to support vulnerable children and their communities to create lasting change."
Meta are supporting Maro use his platform to share the power of education and support The Pearl Fund. Watch more about what Maro and The Pearl Fund are aiming to achieve here on Instagram.