MATCH REACTION | Alex Austerberry (AP15s Rd11)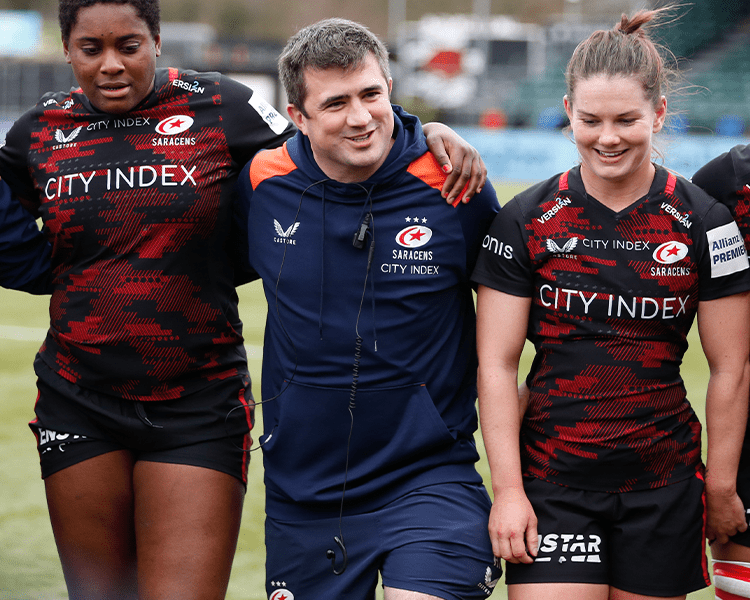 Director of Rugby Alex Austerberry was left delighted after seeing his side secure a statement victory in The Duel!
A blistering opening spell saw his side race to a 27-point lead at the break and the DoR was thrilled to see the work that his backline have been doing come to fruition.
"We found ways to get beyond them and utilise the shortside. That gave us the ability to build the scoreboard and keep them at arm's length. It's about evolution in our attack. James Tirrell and Lewis Sones have been working really hard on it and the players have been driving it. We've always been quite good in the pack creating the platform, but it's about taking our game to the next level."
The second half was an altogether tighter affair, with Austerberry praising his side's maul defence. He did though, highlight the need for improvement in terms of discipline.
"You're playing against a good team, so there are always going to be periods where you're under the pump. We need to get used to that and realise that sides have earnt that right. We were biting in too much at times and were being marched back down the field thanks to our own ill-discipline. That's certainly something that we've got to do better."
Austerberry also shared the news that flyhalf Zoe Harrison would receive a scan after being helped from the pitch during the second half, admitting that it was "too early to tell" on the severity of her injury.
On a day where the power in the area failed, the action on the field more than made up for it, as did the support of a vociferous Saracens home crowd. Austerberry praised the club for putting the event on and believed that days like this are really the beginning of something special for the game.
"I've been banging the drum for a long time. There are some wonderful athletes on the field, and they need the arena and days like this to showcase that. All credit to everyone in the club for making this happen, even with the power cut!"
"There's still 1000 odd people celebrating and getting autographs at full-time which is just amazing. This is the next step, we're driving performances on the field, but we need to keep doing that off the field as well. If we can keep performing, then people will be excited and keep coming back.'
With a girls rugby festival taking place ahead of the match, Austerberry believed that the next generation of talent was also on display. Days like yesterday are special, but Austerberry believes that they need to become the norm, as women's rugby continues to grow.
"We need to capitalise on the fact that the girls that were playing in the festival yesterday morning are the stars of the future. I guarantee that there will be someone who was down there who is a future Saracen and a future Red Rose."
"That's what this is all about. We need to keep capitalising and building on this. We're capturing the audience, but also this next generation of players. Putting on events like this needs to become the norm. We're really onto something special."