MATCH REACTION | Alex Austerberry (AP15s Rd7)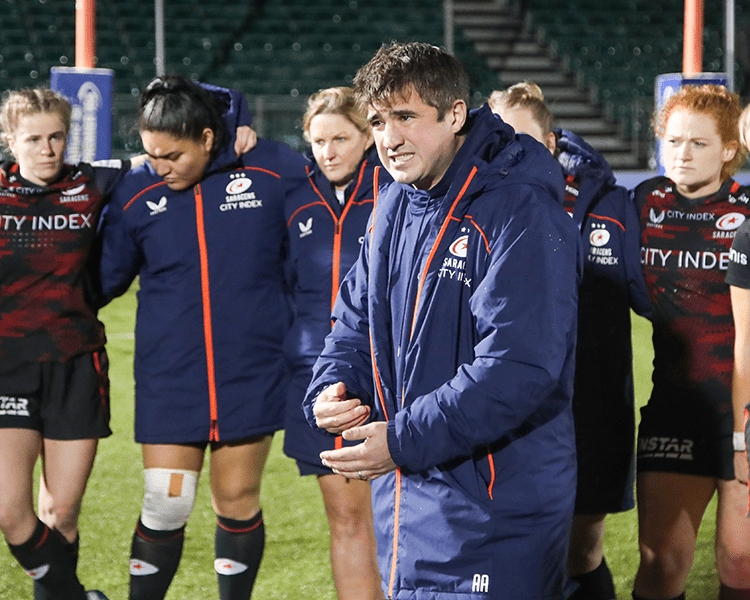 Director of Rugby Alex Austerberry admitted that his side "gave [themselves] too much to do, as they suffered a 37-19 defeat to last season's runners-up Exeter Chiefs.
Reflecting on the performance, where his side trailed 29-7 at half-time, Austerberry's overriding feeling was one of disappointment.
"It's disappointing. We talk about being the best versions of ourselves and for large parts of the first half we weren't. I don't want to take anything away from Exeter, who won the collisions and had the energy."
Accuracy was something that let Saracens down in the match, as handling errors scuppered attacking opportunities.
Austerberry felt that his side had the opportunities to pull themselves back into the match, but that they weren't ever able to fully convert the opportunities that fell their way.
"When we did get those opportunities, we just weren't accurate enough to get ourselves back in the game. If we scored at the end of the first half, it would have been a fifteen-point game. We put the pressure on at the start of the second half but became undone by our execution," he explained.
Austerberry was at pains to praise Exeter for their performance and felt that a try bonus point was within his side's reach, if they had been able to capitalise.
"When you're twenty-nine points down away to a very good side, you can't expect to come away with very much," he admitted. "I was hoping that we would get that try bonus point, but we never really got a chance in a position to land a significant blow. We weren't the sum of our parts today."
Next week, the side return to the home comforts of StoneX Stadium against Worcester Warriors, and Austerberry acknowledged that his side needed to focus on their work at the breakdown, if they are to pick up a result.
"We have to look at our collision work. If you aren't being accurate with your presentation and targeting the ball carrier, it becomes a very difficult game, and your systems start to break down."
In truth, it was the opening twenty minutes that blew Saracens away and Austerberry was open in his view that his side need to manage the difficult periods in the game better.
"Sometimes you have to take your medicine in a game, and we need to work out how to manage those periods better throughout the match, instead of it becoming a catastrophic period. Today, and previously this season, we haven't done that very well. You can't lose an eighty-minute game in a fifteen-minute period."