MATCH REACTION | Camilla Buchanan (NSL Rd5)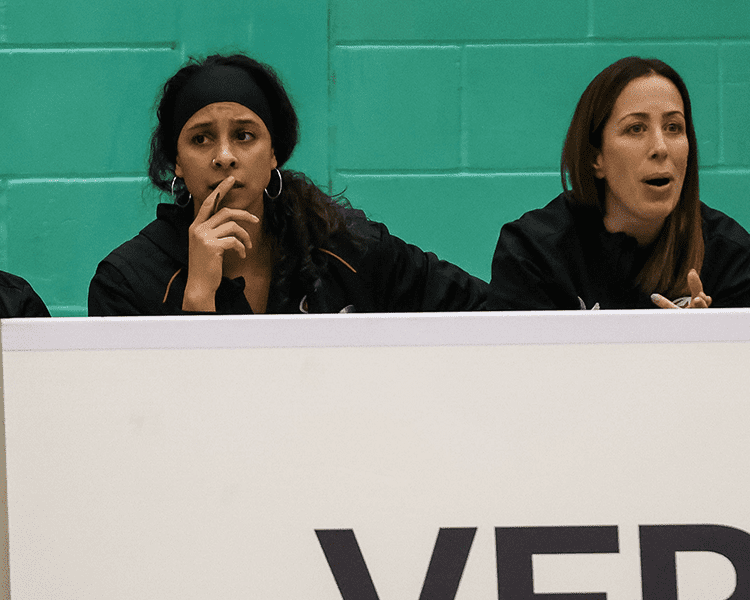 Saracens Mavericks Head Coach Camilla Buchanan was left "very happy" with the three points against Celtic Dragons on Saturday, although she could still see room for improvement in her side.
"This was one that we targeted as a must-win for the season, and I felt we did that in patches. There were moments when some of our basic errors crept in. We need to look to fix those, as we won't be afforded legroom in the future. We need to keep our foot down consistently, but the connections in the attacking end are getting stronger and stronger each week."
Buchanan though, feels that her side have improved considerably since the start of the season.
"We've really grown since game one. We could have seen out the game a bit better. At times, we put our foot on the accelerator, which we know we're capable of doing. We needed to do that consistently today and for the most part, we did."
South African Monique Meyer was named as Player of the Match at HSV and Buchanan praised the work of the Goal Defence, alongside Goalkeeper Jodie Gibson.
"Defensively, it's the first time we've played a rotational circle this season. What we had planned for in the week changed at the last minute, so I was really pleased with how Jodie and Monique worked the circle. Monique really was outstanding in terms of the one-on-one pressure and some of the ball that she managed to come out with."
Looking ahead to the upcoming NSL fixture against Strathclyde Sirens, Buchanan emphasised that consistency will now be the focus for her side.
"There were pockets of brilliance and I'm sure every coach is saying this in the league, but the challenge now is to string them together for a longer period of time. I'm very happy with the win and we'll bank the good bits. We can learn from the tricky bits and take those into the next game."
Before that match though, Mavericks take on England Thorns in the first competitive fixture between the England men's side and an NSL side in front of spectators.
Buchanan is excited for the challenge and sees the fixture as an opportunity to further develop the connections and understanding on court.
"The Thorns match will be a really good opportunity to home in on ourselves again. It's been very tactical so far this season, so it will be a real chance to take stock of us and our gameplan. We'll look to refine some of our connections again and look at those technical bits. Building into the match the following week, that has to be the aim."