MATCH REPORT | SARACENS MAVERICKS 43-65 LONDON PULSE (NSL RD10)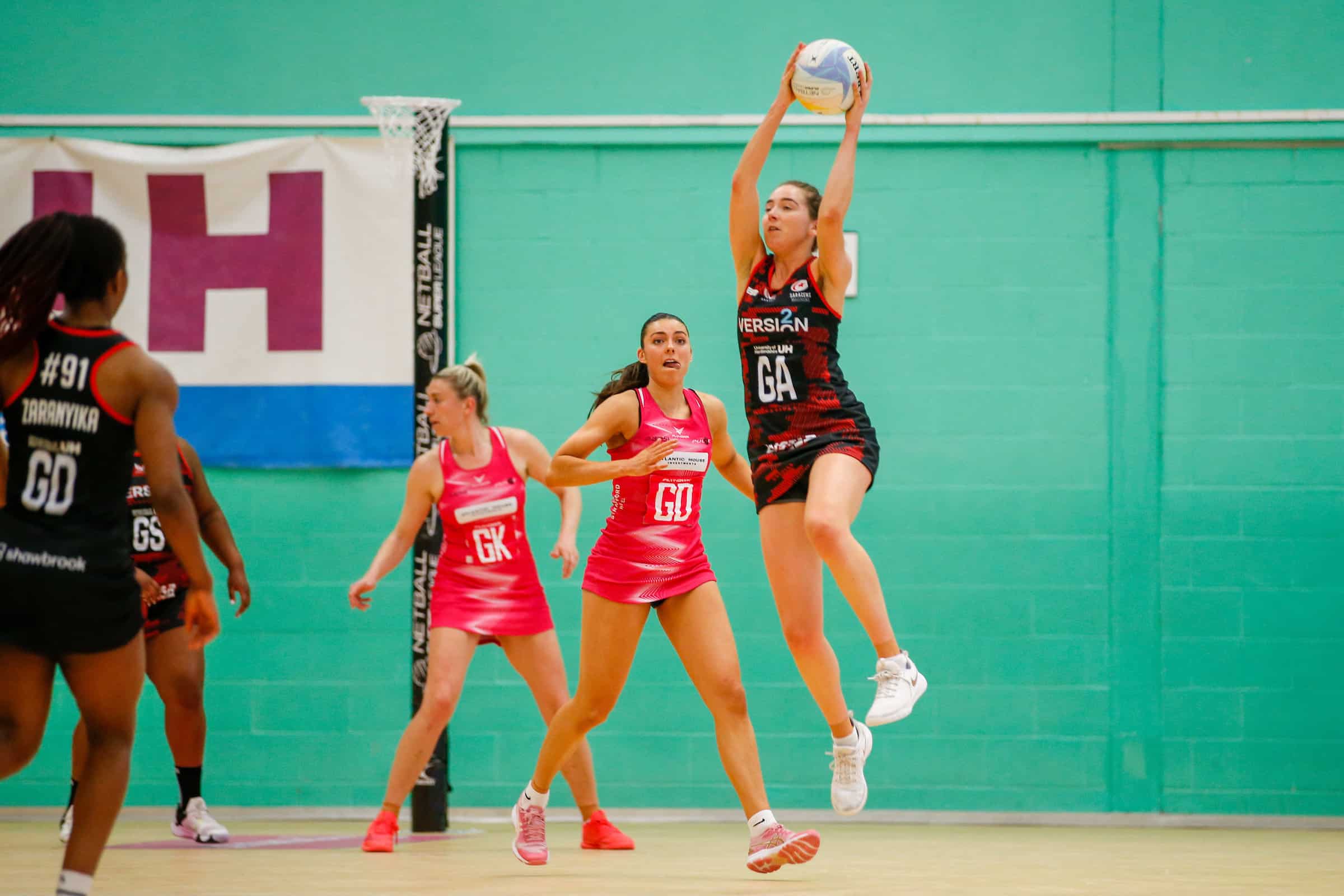 DESPITE AN IMPROVED DISPLAY IN THE SECOND PERIOD, SARACENS MAVERICKS WERE UNABLE TO HALT LONDON PULSE, AS THEIR LONDON RIVALS SECURED VICTORY WITH A COMMANDING DISPLAY.
Playing any of the top 4 teams presents a challenge but with London Pulse in title-challenging form, Mavericks knew they had to bring their A game. Pulse established an early lead which they then capitalised on in the second quarter, putting the game beyond a reinvigorated Mavs side in the second half.
At the midpoint of the Netball Super League season, it was a huge boost to have England Rose, Razia Quashie, back in a Mavs dress, making life difficult for the opposing shooters. Energetic Centre, Beth Ecuyer-Dale, explained the difference Quashie makes to her side: "Everyone in the team feels so much confidence when she's at the back." But when a defensive maestro like Quashie can't prevent a 7-0 deficit early doors, you know you're in for a rough ride!
Mavericks looked to bring game-changers off the bench in the second quarter, with substitutes brought on in every third. Pulse, however, were rampant, scoring an outrageous 24 goals in just fifteen minutes.
Head Coach, Camilla Buchanan, told her team they had "pride to play for" in the second half. Characteristic of her side this season, Buchanan's team put in a stronger performance in the latter stages of the game such that she was "really happy with how they responded".
Ecuyer-Dale expanded on her team's performance post-match as well: "I'm really pleased with how we grew into the second half. We knew we had some things to fix and we did that going into the second half.
Both player and coach spoke with honesty and optimism about what this new squad are building. The midcourter identified how "when we have those great moments it's about keeping building on them," while Buchanan was emphatic about the "belief" they have in what they're building as a group.
Once again Britney Clarke and Ellie Kelk came on to have a positive impact on the game, with Kelk's distance shooting impressing the sell-out crowd. However, a closely contested final quarter wasn't enough to catch Sam Bird's side.
Buchanan looked forward to the second half of the season with absolute faith in her team: "This group has got some real talent; we need to unlock it when we're under pressure."
Players and coaches alike may welcome a longer break to work on unlocking that talent as they sit-out next weekend before travelling north east on 16th April to take on Leeds Rhinos, a team they beat in their first home match of the season. Mavs will then host table-toppers Surrey Storm back at Hertfordshire Sports Village on 22nd April.
Heading into the second half of the season, the goal now for this group is to take the learnings from these first nine games and build heading into the backend of the season. With connections between players growing week on week, Mavericks now need to look to turn the screw on court.
Report by Erica Rosa Tapp