MATCH REPORT | SARACENS MAVERICKS 58 - 62 LEEDS RHINOS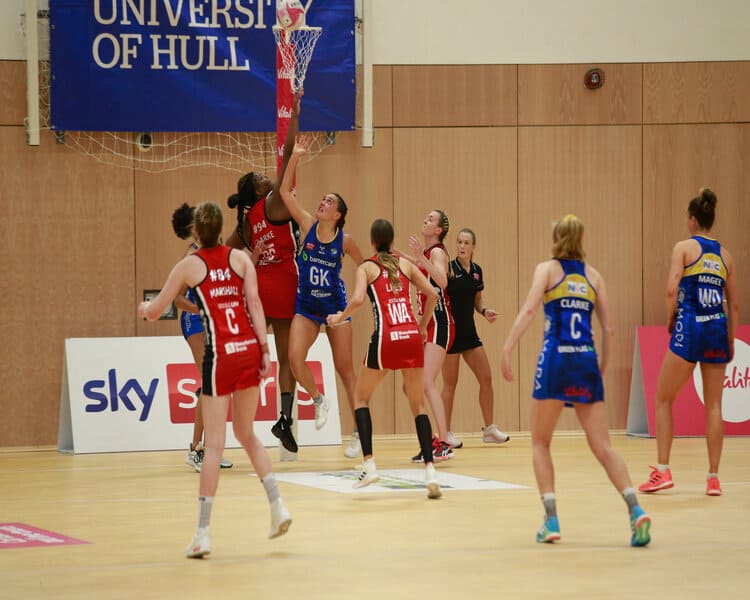 Rhinos Trample Mavericks' Top 4 Hopes
Team Bath's recent results meant Mavericks' game against Rhinos wasn't just a must-win but a must-win-BIG. And yet it wasn't to be. Heartbreak for the visiting side as a top 4 finish once again slips through their fingers.
Head Coach, Kat Ratnapala, contemplated the performance:
"I think that game pretty much summed up our season to be honest…we didn't take the opportunities. So yeah, really disappointed and the girls feel disappointed with that result as well…the consistency has let us down."
Mavericks began the match in Hull with the same starting seven they'd selected against Thunder last weekend. Kadeen filled injured Quashie's shoes and her passionate performance merited the praise Ratnapala bounced her way: "Kadeen has been outstanding for us at the back."
The home team claimed the first quarter with a display of pace, laser feeds and the 100% shoot rate of 6'2" Sigi Burger. The Black and Reds, on the other hand, couldn't find the statistics to match.
The away bench didn't have time to get warm in the second and third quarters as Ratnapala rotated players in an attempt to disrupt Rhinos' charge. Zaranyika (Version2Lights Player of the Match), Lees and Clarke made positive impacts, but the "sloppy errors" identified by Captain Corbin let Mavericks down.
The Hertfordshire side worked hard to close the gap to just two goals in the second half, but Rhinos wanted a win for both their supporters and their departing Head Coach, Tracey Robinson. Although Mavericks won quarters 3 and 4, Jade Clark's team held them off to deny the southerners the points they needed.
Injuries and inconsistency look to have cost Mavericks that elusive play-off place, but all is not lost. Ratnapala affirmed that "when we're doing things well it's amazing." Her side are "looking forward to putting on a performance for our home fans" next Saturday as they compete in their final game of the season against Team Bath. C'mon Mavs, go out with a BANG!
Final fixture: 4pm on Saturday 28th May against Team Bath in the Hertfordshire Sports Village
Match stats
Leeds Rhinos starting 7: GS Sigi Burger; GA Brie Grierson; WA Amelia Hall; C Jade Clarke (C); WD Michelle Magee; GD Vicki Oyesola; GK Tuaine Keenan
Replacements: Amy Clinton; Paige Kindred; Sienna Rushton; Amelia Veevers; Lydia Walker
Saracens Mavericks starting 7: GS Ine-Mari Venter; GA Chloe Essam; WA Sasha Corbin (C); C Beth Ecuyer-Dale; WD Gabby Marshall; GD Jodie Gibson; GK Kadeen Corbin
Replacements: Britney Clarke; Bea Skingsley; Georgia Lees; Aliyah Zaranyika; Odiri Atirene
Quarter scores (Leeds Rhinos first): Q1 17-14; Q2 34-27 (17-13); Q3 48-42 (14-15); Q4 62-58 (14-16)
Written By : Erica Rosa Tapp
Photo Credit : Mark Pritchard