Mavericks maintain a clean sheet in Wakefield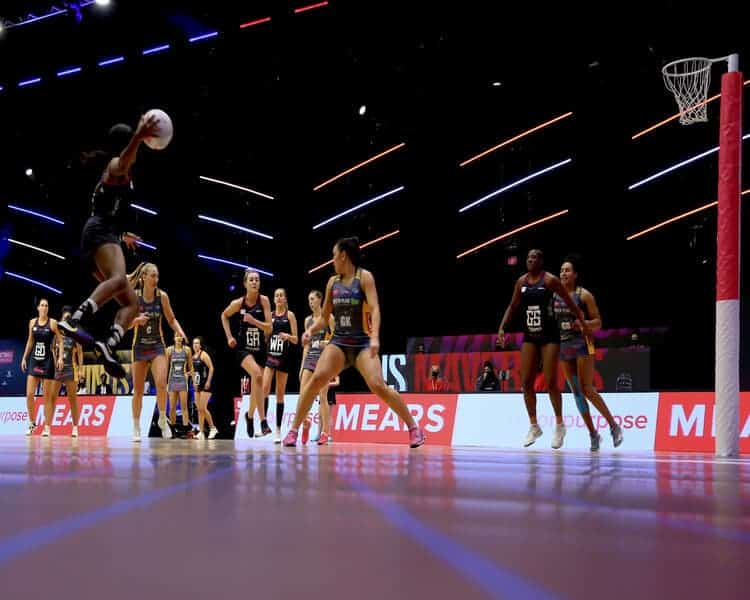 Saracens Mavericks make it two from two as they take the win in a close match against newcomers Leeds Rhinos. In a tough, physical contest, Mavericks edged Rhinos and took the win in their second match in two days.
In the first quarter, Rhinos put the first few points on the board. Mavericks soon got into the game and a tough defensive line-up was key in causing turnovers and allowing them to convert to goal. It was a full team effort as Mavericks took a one-goal lead heading into the first quarter break.
The second quarter was tough for Rhinos, as both their goalkeeper and goal shooter went off with injuries. This did not rattle Rhinos, who continued to provide tough opposition for our Saracens Mavericks side. Continuing to build on their performance, Mavericks brought on Britney Clarke, one of their youngsters, as goal shooter. She effortlessly scored for the side and worked well with Kadeen Corbin, breaking down the Rhinos defence. The half time score was 22-20.
Another youngster, Bella Baylis was brought on as Centre in the third quarter as an impact change. The depth of talent in the Saracens Mavericks squad was key to today's victory, as head coach Kat Ratnapala can count on any number of her players to step up and deliver. A further blow to Rhinos came as their Wing Defence, Fionnula Toner, went down with an ankle injury. Both sides kept fighting and Mavericks went into the final quarter maintaining their two goal lead.
The final quarter was tough, as both sides refused to give up. Saracens Mavericks found their groove and began to extend their lead. With a full squad effort, Mavericks managed to maintain their lead throughout the final quarter. Although it was a tight and tough match, Mavericks pulled through and delivered the win, with the final score being 43-39. Mavericks' player of the match was Kadeen Corbin.
After a tough double header weekend, with matches on two consecutive days, Saracens Mavericks have earned themselves a full six points and sit second on the leaderboard (due to goal difference). Saracens Mavericks want to extend our best wishes to the injured Leeds Rhinos players and wish them all a speedy recovery.
Photo Credit: Ben Lumley