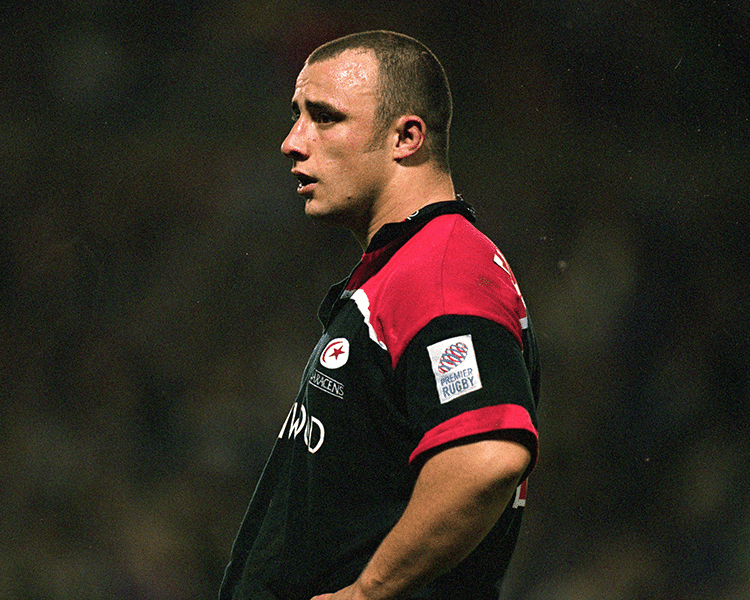 David Flatman was a slightly conflicted man at the StoneX Stadium on Saturday as he watched the two clubs with which he played with such distinction go head-to-head. He made 235 senior appearances for Saracens and Bath in the Premiership and Europe between 1998 and his retirement on injury grounds in 2012.
Throw in eight England caps, a fearful reputation as a loose head prop and it is safe to say he was some player. He seemed destined for the top from the day he played for England U18 schoolboys while at Dulwich College, travelled with the England Colts to Australia and then an England U21 debut against South Africa at 18 and you can see he was headed for stardom from a young age. 
His Premiership debut for the 'Men in Black' made him the youngster prop to play in the tournament as he lined-up against London Irish at the age of 18 years, 326 days. 
13 December, 1998: Saracens 40 – 26 London Irish, Vicarage Road 
Looking back on it now, my Premiership debut for Saracens ended an amazing nine days in my rugby career. I played for England U21 against the South Africans on Saturday, 6 December; two days later I was in the Saracens 2nd XV that took on a Bath United team that included 14 internationals and the uncapped Steve Borthwick; then Francois Pienaar came up to me in training and said he wanted to start me on Sunday, 13 December against London Irish. 
I was barely out of school and couldn't believe my luck. I went into the game against London Irish without any nerves because I didn't think I had anything to lose. Props aren't supposed to mature until around 24, so I was well ahead of the game as an 18-year-old and if it didn't work out I could always come again. 
I'd arrived at Saracens that summer with my old school mate Jonny Dawson and reported to the Saracens training ground. We were shown to the ice-cold locker room, told there was no way we were getting one of our own and instructed to make sure our gear was not left in the way of any of the players. We were then led into a team meeting for which we were late. Mark Evans, then the boss, told us to wait outside.
Fifteen minutes into my first training session with the big boys I felt so exhausted that a fear filled my startled body; I truly thought that this game was too hard for me. I was nowhere near ready. I was wheezing, I was vomiting and I was bang out of my depth. It was at that point that Tony Diprose, that velvety No 8, grabbed me by the collar and told me to stick with him. 
He pushed me – literally – through that running session, and without him I honestly think I might have dropped to my knees and rung the bell. A year later I accidentally caught him with an elbow in training and he spent the following hour filling me in at every opportunity. Quite right, too.  
But when it came to my debut I felt surprisingly calm and ready. I'd been taught to work and train hard at Dulwich, where I had players like Andrew Sheridan and Dawson around me, in the gym, on the weights and on the field. After one work out on the weights at Saracens I asked the S&C coach if there was anything else I could do at the end of the session. Francois Pienaar praised me for my work ethic and attitude, while all the other players groaned and called me teacher's pet. 
I loved being given my shot at first team rugby and I loved every moment of the game. I got the ball in my hands quite a lot, scored a try from a rolling maul, but was most pleased me was the fact we managed a push-over try. 
I got to play with some amazing players at Saracens and met some wonderful people. As I grew into the first team, I was able to meet and get to know Nigel Wray. What a wonderful rugby man he is. He introduced me, along with some of the other younger players, to his daughter, Lucy, and we are still friends to this day.
I guess I was lucky that Roberto Grau, the Argentinean loose head legend, was injured at the time, but Francois had a number of other, more experienced options to whom he could have turned to play that day. I remember him coming up to me in training after I'd been kicked around by the Bath boys on the Monday night and asking if I felt strong enough to face London Irish. He wanted to give me a try and I wanted to grab the chance with both hands. 
Francois was the toughest opponent I encountered. If not necessarily gifted in terms of skill, his will was shatter-proof, and he was harder than steel. If I was good enough for him then I must have been doing something right. 
Funnily enough, despite my problems in pre-season, I never felt tired throughout the whole of the game against London Irish. I got through it on pure adrenalin, youthful exuberance and naivety. It didn't take long for me to realise that that feeling was a one off. It was great to be packing down in the front row with my flatmate, George Chuter and Paul Wallace. Behind me I had Paddy Johns and Danny Grewcock and then there were Francois, Diprose and Richard Hill in the back row. That was some pack for an 18-year-old to fit into for his first game!