Packer Relishing Harlequins Battle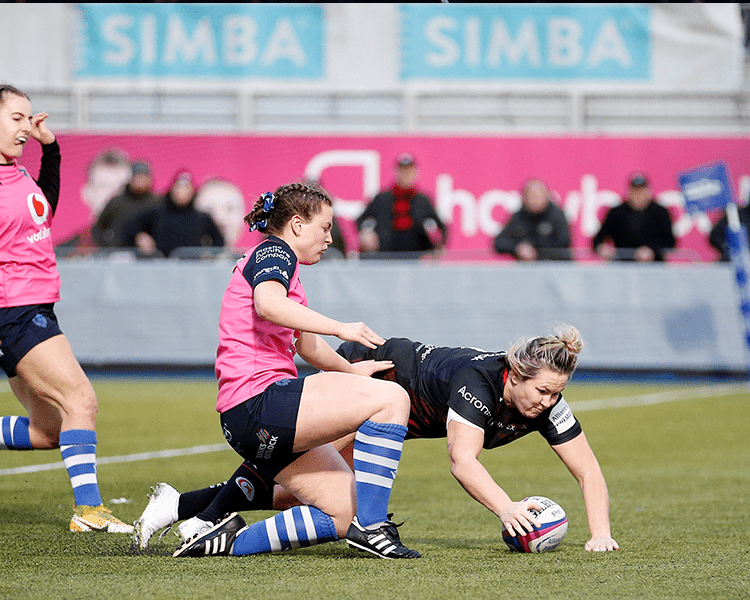 Co-captain Marlie Packer is expecting a "special occasion" on Saturday at The Duel.
Saracens Women and Harlequins Women will lock horns again for the first time since round three and, with a bumper crowd expected at StoneX, Packer is relishing the occasion.
"Every time we play Harlequins, these games are a big occasion. All eyes are on it this weekend. As a player, I want to perform and be at my best. It makes it that little more exciting."
Last season, it was Harlequins who were the victors in The Duel and, after Amy Turner's side won the fixture earlier in the season, Packer is desperate for her side to avenge those defeats.
"It's a massive day for everyone. It's super exciting. Last time, we lost The Duel. The feeling coming off the back of that wasn't the best. We want to make sure it doesn't end like that this time, so we're working to be the most prepared we can be."
Last weekend, Packer's side secured a standout victory on the road against Sale Sharks. It is a fixture the Saracens have historically struggled in, and Packer now wants her side to back up what they showed last weekend.
"We're coming off the back of a good win and we're looking to back that up. What better place to do it than at StoneX. Harlequins will bring their A-game, but it's all about breaking them down and doing what we do. We need to make sure we're dominant, physical in our carries and that we take the points when we're in their 22."
With the biggest crowd of the season by some distance set to attend on Saturday, Packer sees the match as a chance to showcase the game to new fans, as the bond within the side continues to grow.
"We want to put on a spectacle for the fans and get them to come back for more matches too. There's a buzz around the group. We want to make sure we have the bond together so that when times are hard on the pitch, we know that everyone will put their bodies on the line."
That roar from the crowd will be huge on Saturday but, as Packer explained, all that matters at the end of the match is that it is Saracens who come out on top.
"It's special running out at StoneX and hearing the crowd and the music. The whole occasion is going to be special, but the only thing that matters at the end of the 80 minutes is that we come out on top."