Red Roses win thriller to book final place.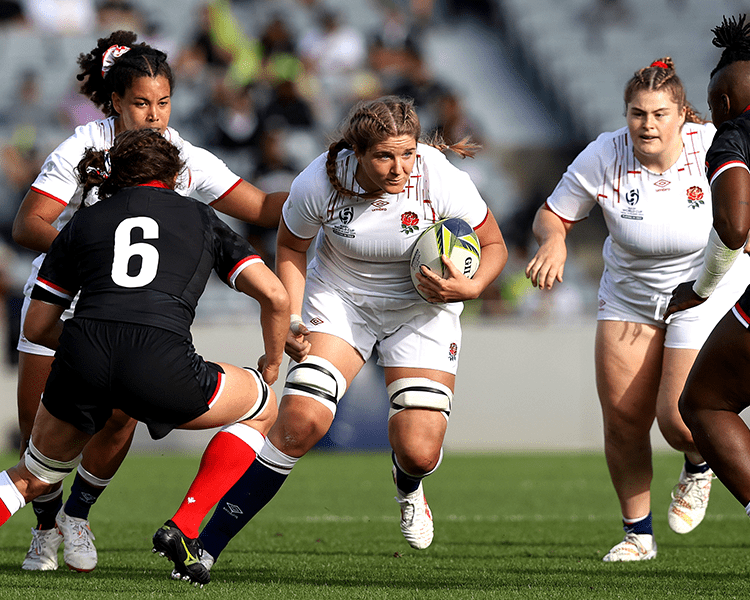 Quite simply, it will go down as one of the all-time great world cup semi-finals. It was tight, it was tense, but it was the Red Roses who edged a nailbiter to secure their place in the final.
For Saracens' England contingent, they can set their sights on the final next weekend, after securing a dramatic 26-19 victory over an inspired Canadian side.
To say that this was the match of the tournament would be an understatement in itself, as both sides put everything they had into a full-blooded contest. In amongst the joy for the Red Roses though, it was heartbreak for Alysha Corrigan and Alex Ellis, as they saw their hopes of reaching the final dashed.
Before kick-off, England were forced into two late changes, with Hannah Botterman having to sit out the semi-final, having picked up an injury ahead of the match.
Former Saracen and Canadian captain Sophie de Goede had said in the week that winning runs were there to be ended, as she laid down the gauntlet to the Red Roses.
It was England who made the fast start though, with Marlie Packer crossing for her fifth try of the tournament, from a well-constructed lineout move, before Abby Dow crossed after a smart break from Helena Rowland.
Canada hit back though, after a stunning Karen Paquin score, before they drew level thanks to Corrigan's smart finish.
England edged their way ahead with two penalties, before Claudia MacDonald set up Dow for a length of the field effort after Canada had looked to nudge their way ahead.
Canada refused to be deterred though, as Tyson Beukeboom crossed to reduce the deficit again. However, Emily Scarratt slotted a third penalty to increase the lead, as England held on, thanks in part to the efforts of the likes of Poppy Cleall off the bench.
The Canadians refused to give in, with Alex Ellis adding further dynamism off their bench, but in the end, it wasn't quite enough, as England held on to book their place in the final.