Saracens agree three-year partnership extension with Hy-Pro International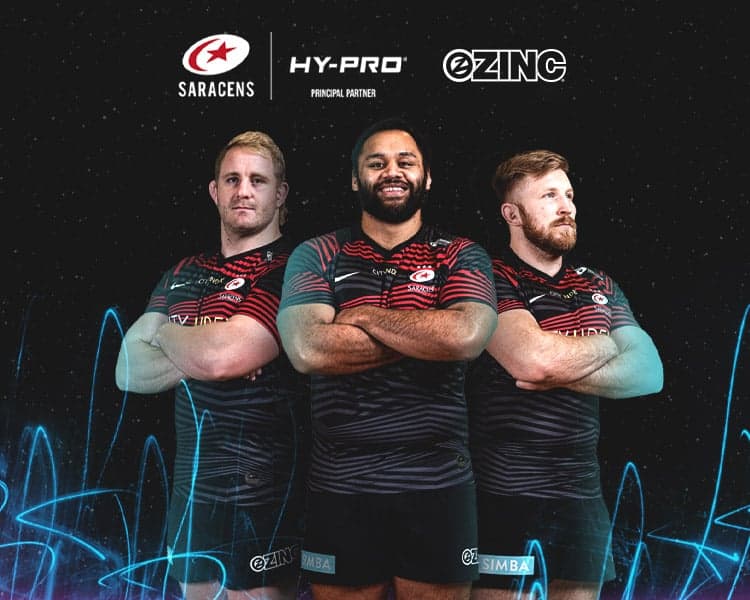 Saracens Rugby Club agrees three-year partnership extension with Hy-Pro International.
Saracens are delighted to have extended its partnership with the UK's leading original equipment manufacturer, Hy-Pro. As per the last three years, Hy-Pro will continue in their current designation as a Principal Partner of the Men's team.
Hy-Pro specialises in sports & outdoor equipment and the partnership extension will see Hy-Pro brand Zinc, feature on the Men's home playing shorts.
"We are absolutely delighted to be extending our relationship" 
Zinc are the UK's number one scooter brand and will become the club's Official Scooter Partner. The Zinc logo will feature on the left-hand side of the Saracens Men's home playing shorts and will also feature around the newly named StoneX Stadium.
Zinc is now at the forefront of product innovation, leading the way forward with new and exciting products which include their industry leading range of electric scooters. On top of their electric scooters, Zinc offers a broad range of children's play scooters, inline stunt scooters and skates.
In addition, Hy-Pro brand Shock Doctor has been renewed as the Club's Official Mouthguard Partner for the same period of three years.
Lucy Englander, Saracens Head of Group Partnerships, said: "Hy-Pro have been one of our longest standing supporters over the past seven seasons and we are absolutely delighted to be extending our relationship for another 3. The new agreement will see us shining a light on Hy-Pro's Zinc brand, which is their innovative and exciting scooter brand. We are very much looking forward to creating engaging content and activations that our fans will be able to enjoy around this partnership. Thank you to the team at Hy-Pro for your continued support!"
Atul Shah, CEO of Hy-Pro International commented: "We are delighted to be renewing our association with Saracens. This new ZINC focussed partnership will enable us to share and develop Zinc's long term brand development strategy, particularly as we move into new areas of electrical mobility and travel. Working with Saracens we aim to further cement our position as global leaders in Scooter innovation and technology".

MATCH REACTION | Lewis Sones (AC Rd 1)
Women's Assistant Coach Lewis Sones felt that his side could take a lot of encouragement, despite an opening round cup defeat to Harlequins. A late surge from Saracens nearly secured the points in a topsy-turvy match, before they were forced to settle for two losing bonus points. Despite the result, Sones was pleased with how […]

World Cup Round Up | Saracens front and centre of thrilling weekend
It was another outstanding weekend of action in France as the pool stages continued with Saracens players featuring all over the country. 10 Sarries took to the pitch throughout the third round of matches and all of them showed their class with some fantastic performances. Marco Riccioni kicked things off on Wednesday as he started […]

MATCH REPORT | Saracens Women 29-36 Harlequins Women
Saracens Women started their Allianz Cup campaign with a narrow defeat as they were beaten 29-36 by Harlequins at StoneX Stadium. Alex Austerberry's side trailed by 12 points heading in to the final quarter but never gave in and almost completed a remarkable comeback but had to settle for two bonus points. It was Quins […]