Saracens Foodbank Collection a huge success!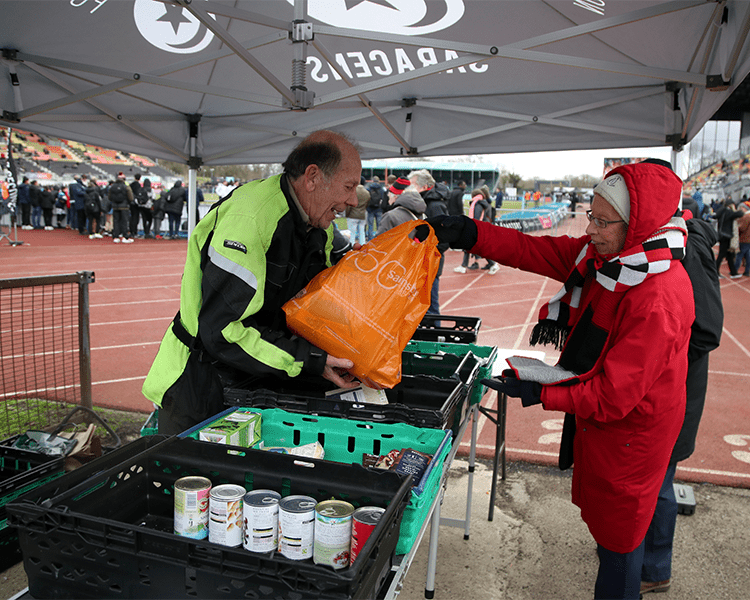 We'd like to thank our fantastic supporters for your amazing generosity during our Foodbank Collection before the match against Newcastle Falcons.
We collected an incredible 1.5 tonnes of donated items which have been sorted and organised and are being distributed to all the Foodbanks in the Borough.
Around 300kg of the total donations were non-food items, including personal hygiene products e.g. soap, shampoo, toothpaste, toothbrushes, women's products, etc.
The bulk of the donations were food items, including tins of tomatoes, bins, tinned tuna and mackerel, dried pasta and rice.
The donated items represents around 3,572 meals and saves around 6 tonnes of CO2 greenhouse gas emissions had it gone to waste.
Gordon Banks, Stakeholder Communications & Relationships Director at Saracens was keen to thank everyone for their support.
"Collecting 1.5 tonnes of food via the Saracens Food Drive at our recent Saracens Men's match is an outstanding result which once again highlights the generosity and compassion of Saracens supporters. This food is now on its way to the food banks across Barnet to help support the thousands of local people who are needing to access these services during these challenging times.
What better way to celebrate our first 10 years at StoneX Stadium than taking direct action to reconfirm our commitment to help improve the lives of people within our community. On behalf of all of us at Saracens we would like to thank you, our valued supporters. You are amazing."