Saracens High School | Officially Open!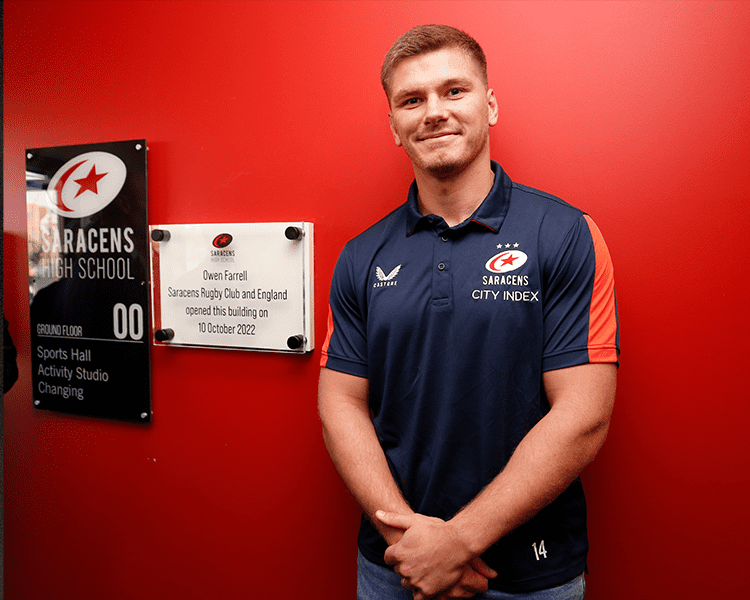 "We declare Saracens High School officially open!"
On Monday afternoon Saracens High School was formally opened. 
Although the school was founded five years ago, it was a little under a year ago that staff and pupils of Saracens High moved into their impressive purpose-built facilities on Corner Mead. 
On a sunny autumnal afternoon, we welcomed the Lord Lieutenant of London, Sir Kenneth Olisa OBE, through our shiny red doors. 
The Lord Lieutenant acts as the King's representative in Greater London and his resplendent uniform - complete with medals, sword and white gloves - certainly set a regal tone to proceedings.
Sir Kenneth Olisa praised the atmosphere in the school and spoke with conviction about the difference a quality education makes in people's lives. 
Among those gathered in the school's lofty atrium were Governors and Trustees of the school and of Saracens Multi-Academy Trust, as well as representatives from the Department for Education, Barnet Council and, importantly, an ambassadorial selection of Saracens High School pupils.
As a member of the Saracens family, the school could also depend on the support of Saracens, as both suits and tracksuits joined us on this historic day. 
Bolstering the ceremonial value of the day was the unveiling of Saracens High School's very own Coat of Arms, the creation of which was generously funded by Chase & Partners and The Worshipful Company of Arbitrators.
Professional sports men and women from across the Saracens teams joined us and we were delighted to introduce them to members of our own sports teams. Mavericks Sasha Corbin and Lisa Mather, as well as Ben Earl and Owen Farrell, spent time talking to the pupils (and signing shirts) before heading over to the sports hall to shoot some hoops!
Sarries' talisman, Owen Farrell, officially opened the sports hall and gym. Although slightly disappointed with his basketball skills on the day, he wasn't disappointed with the school and its pupils, saying they were "very polite, very nice showing us round." 
He was proud to belong to a club committed to making a difference to local residents:
"To see the work that the club's doing in the community is obviously fantastic."
Kate Alcock, CEO of Saracens High School, was instrumental in organising this special day and reflected on the significance of the occasion: 
"The official opening of Saracens High School was a wonderful public endorsement of how well embedded our school is in the community of Grahame Park." 
Saracens High School looks forward to extending their excellent provision to the local community when they open Saracens Sixth Form, on the same campus, in September 2023.