Saracens setting the Bar with Trek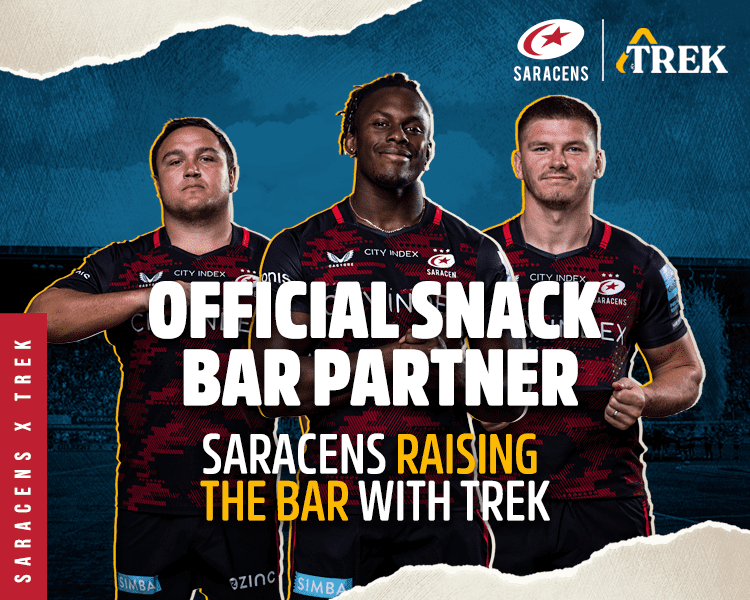 Saracens is delighted to welcome TREK as the Official Snack Bar Partner of the club.
TREK bars, which deliver natural, long-lasting energy with no artificial ingredients, believe in providing better snacks for the environment. Their 100% plant based ingredients show their ambition to keep ingredients as close to their original form as possible, keeping the best nutritional value, in every bar.
Their message "We empower and enable feel good energy for every active life, every day" will resonate with the players who are aiming to use every advantage they can, as they head towards some huge fixtures over the coming months.
The squad will be using TREK products to fuel up throughout the day at training, and TREK branding will be on the back of the shorts for the remainder of the 2022/23 campaign.
With the launch of the partnership coming ahead of the biggest game of the season at the Tottenham Hotspur Stadium for The Showdown 3 in Association with City Index against Harlequins, this will kick off in the best possible style!
Their logos will be present on the Team's Up and Game Day graphics on social media, so fans will be seeing them on some of the most prominent posts for the business as we enter the end of season.
Saracens CEO Lucy Wray is hugely excited by the deal.
"We are thrilled to be welcoming Trek in to the Saracens Family. Their fantastic products will be of real benefit to the squad. Based in St Albans, it's great to be working with a brand so local to us! It should be an incredibly exciting run in to the end of the season and we are delighted that they have joined us for the ride."
TREK Marketing Director Jo Agnew echoes Lucy's sentiment.
"The TREK team are super excited to be working with the incredible Saracens team, our portfolio of products are the perfect match. Our TREK Power range with 15grams of Protein is the ideal fuel ahead of the game and our delicious TREK Protein Flapjacks can be enjoyed, whether you are a player or a fan! It really is a perfect partnership and we wish Saracens every success with the rest of the season"