Saracens v Scarlets | Important Matchday Information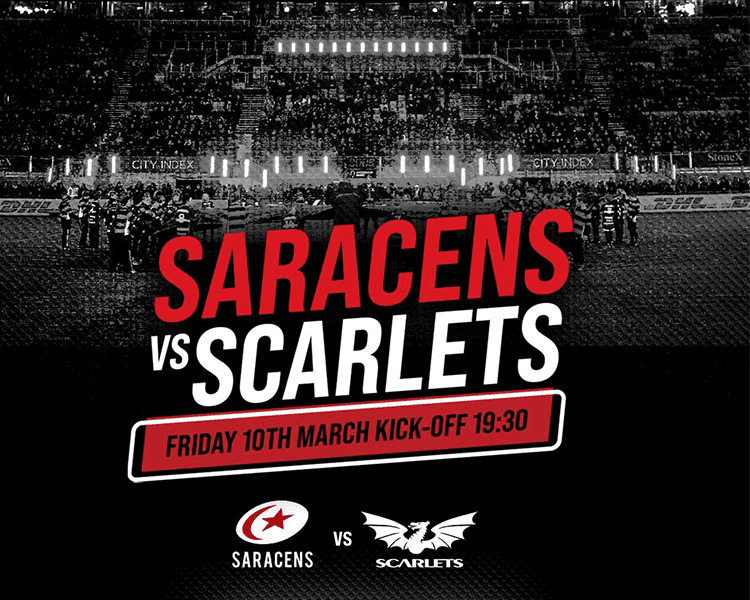 As always, the safety & enjoyment of our fans is our top priority, so please read the below carefully ahead of Friday's game.
Kick off is 19.30, gates open at 17.00.
Please note: hospitality opens at 17:30, and access to The Park is from 18:00.
For both operational and safety purposes, there will be a few changes to our usual matchday on Friday evening.
GATES: Gates A & C will both be open for entry and exit, Gate B will be closed.
SEATING: For this fixture we will be closing both the North & South stands. If you have a Seasonal seat, or have purchased a seat in either of these stands, you will be upgraded to a new seat in either the East or West stand. Please access with your current ticket, then visit a member of the Sarries team at either the accreditation booth (situated on the Piazza at Gate A), or the merchandise stall (situated at Gate C).
WALKING AROUND STONEX STADIUM: Due to the closure of the North & South stands on Friday, there will be no access to the front area of the stands - guests must access East and West around the back of the North & South stands.
SARACENS STORE
Please note that the Saracens Store, located by Gate A, will be open all day, from 10am to 10pm. Check out the store for merchandise, clothing and our Castore team replica & training style currently live both in-store and online.
FOOD & DRINK OFFERINGS AT STONEX STADIUM
Across the entirety of our stadium, we have a range of food and drink available for fans to enjoy, including vegan, vegetarian and alcohol-free options.
Please note: Food & drink concessions will be concentrated on the Oasis & the Olympic Bar for Friday evenings game.
Thank you in advance for your understanding and cooperation.