Saracens celebrates International Women's Day!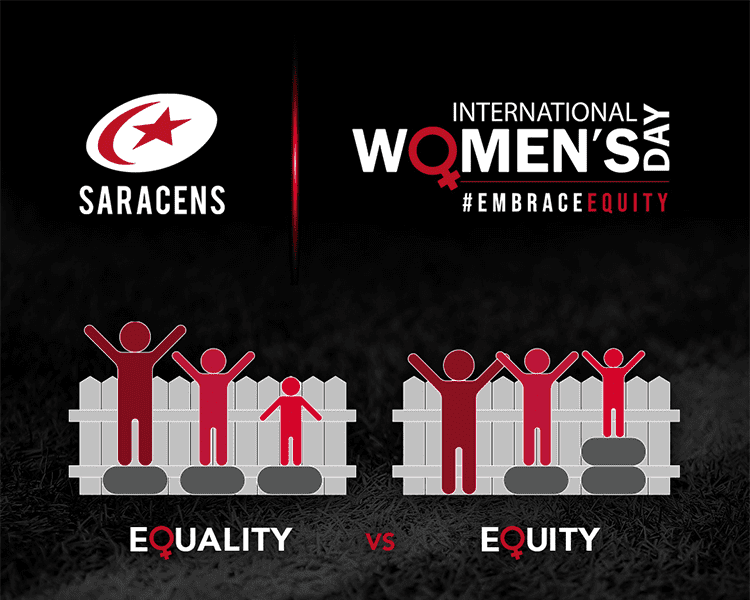 Saracens is proud to support and celebrate International Women's Day 2023 by showcasing our commitment to the delivery and development of Women's Sport.
We are unwavering in our support of this campaign aimed at raising awareness of discrimination and to drive gender parity. The 2023 theme, #EmbraceEquity is focused on continuing the conversation and encouraging inclusion.
The importance of our Women's Rugby and Netball teams is paramount, and we are incredibly proud of their success in recent years. Their growth continues at a significant rate, with the recent victory for Saracens Women over Harlequins breaking the record for the largest crowd at StoneX Stadium for a women's fixture.
With all three professional teams sharing the same facilities, and staff at both the training ground and head office, we are ensuring that we provide equal support to both the men's and women's teams. This resource allocation shows our commitment to thrive at the forefront of both Women's rugby and netball for the foreseeable future.
To join this year's International Women's Day celebrations, we will be spotlighting some of the most prominent women within our club with the likes of Maggie Alphonsi, Sasha Corbin and Sonia Green, all recognised for the amazing contributions they continue to make Saracens.
In addition, we'll be highlighting our partnership with Shawbrook Bank which helps deliver the 'Empower Her' Project, which has recently been nominated for a Sports Industry Award. The programme is delivered by The Saracens Foundation to inspire the next generation of future female leaders through sport.
'Empower Her' pairs 16–24-year-old females with Saracens Women's Rugby and Saracens Mavericks Netball elite athletes and we are extremely proud of how the programme has developed.
Throughout March the club will continue the theme of #EmbraceEquity by highlighting and evidencing further progress towards our ambition to make Saracens as welcoming, diverse and inclusive as possible, including proudly announcing a new Saracens Supporters Charter.
Stay tuned for more International Women's Day content coming your way!
#EmbraceEquity