SECOND ANNUAL SSF CHARITY GOLF DAY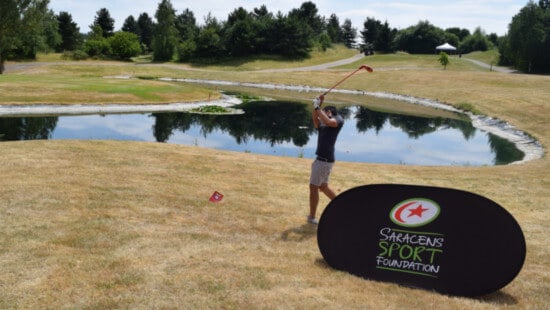 On the 4th of July, 18 teams of keen golfers travelled to Essendon Country Club to take on one of their Championship golf courses in aid of the Saracens Sport Foundation.
The recent heatwave resulted in glorious weather and called for constant hydration – thankfully Greene King had us covered. Playing in the sunshine, our golfers enjoyed all that Essendon had to offer – running fairways, pacey greens and a friendly atmosphere.
Along the way the golfers had a go at the SNAG hole competition – using the specialist golf equipment that our Sarrie's Swing participants use, to try and hit the green for a chance to win a Four Ball voucher at Essendon. In addition to a nearest the pin competition and longest drive prize there was the chance to win the grand prize of a hospitality experience at the British Masters in October. Through the immense generosity of the golfers on the day and Essendon Country Club, 2018's Golf Day raised over £5000.
This money will go towards supporting Saracens Sport Foundation and the Sarrie's Swing programme which supports the transition of disabled golfers into mainstream golf clubs.
We cannot thank Essendon Country Club enough for their generosity and help on the day and throughout the programme, as well as Greene King for keeping our golfers hydrated and happy.