SARACENS CYCLE FOR CHANGE SUCCESS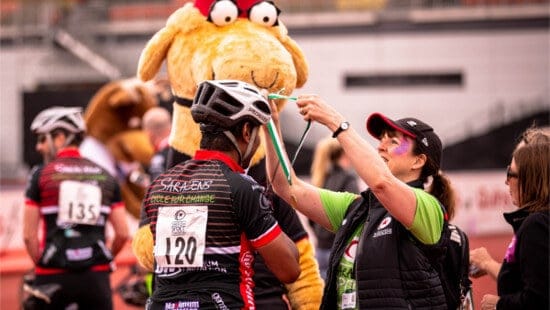 On the 17th of June 2018, 60 cyclists set out on the road for the inaugural Saracens Cycle for Change challenge.
Despite the rainy conditions all the cyclists left Allianz Park in good spirits and prepared for the challenge ahead. After a very short 4 hours and 45 minutes we were shocked to see our first participant come rolling home having completed the 80-mile challenge. Everyone made it home, despite a wrong turn or two along the way, and enjoyed a well-deserved burger and beer!
The final totals are changing day-by-day, but so far our cyclists have raised over £38,000 (with gift aid) for the Foundation, which is phenomenal! The proceeds from the event will go towards funding our programmes in North London and Hertfordshire to change lives and inspire communities through the power of sport. These funds will help programmes such as Get Onside which works in Feltham to engage young offenders with the game of rugby and teach them the disciplines of the sport to reduce reoffending rates.
We must also express our thanks to Optimum Nutrition for supplying our participants with some protein rich products to sustain them in the challenge and many thanks to Allianz, Gemalto, Alan Day and Maximum Logistics for their continued support of the Foundation.
We are really thrilled with the success this event and we look forward to building on it in the years to come.