Successful first week of Feeding Futures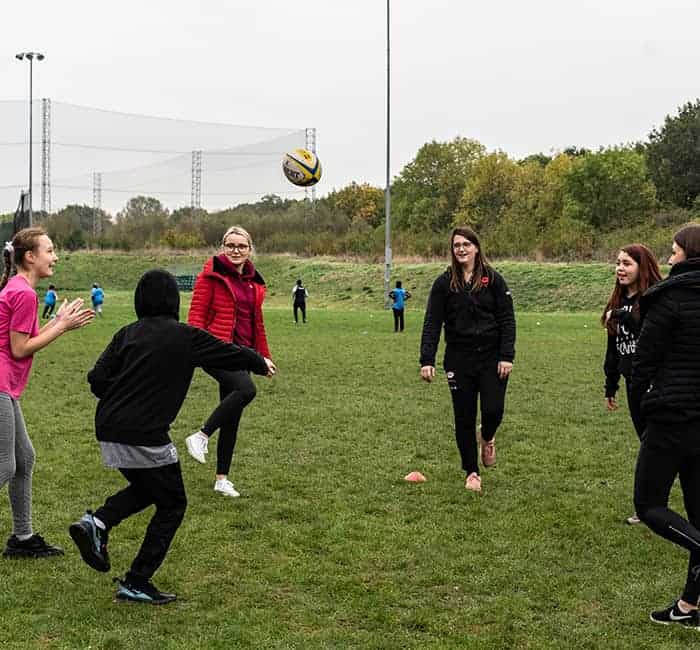 Last week saw the launch of Feeding Futures, a community partnership between Saracens Sport Foundation and Burton's Biscuit Co, that aims to work together to tackle holiday hunger for young people and families in the local community.
A recent study showed that one in three young people on Free School Meals (where families earn less than £16,192 or are on benefits or credits) will experience hunger during holiday periods, as they don't have access to breakfast and lunch.
Feeding Futures aims to provide a high-quality sport and education provision for young people aged 10-12.
Each week-long programme include three days of high-quality sports sessions, along with educational workshops on various life skills topics and an excursion.
Last week saw pupils from Saracens High School visit Allianz Park where they had the opportunity to take part in a number of physical activities including tag rugby, dance and basketball.
They also took part in number of different workshops, including their very own version of Dragon's Den where they had to pitch their nutritious snack idea to Burton's staff, who supported the project throughout the week. They were also provided with breakfast and lunch on each day by the catering staff at Allianz Park.
On the final day, the whole group enjoyed a trip out to Whipsnade Zoo, even though the weather wasn't the nicest on that day!
Carlos, one of the participants in Feeding Futures, said: "I really enjoyed hanging out with my friends and learning new skills and rugby. It's a good resource of learning and I really enjoyed it."
Saracens Sport Foundation Project Officer Zoe Dunn said:
"The launch of Feeding Futures was incredibly positive. Our vision was to utilise this project to continue the development of children during the school holidays. The feedback from children has been very positive too.
"Huge thanks to the coaches and volunteers from Burton's who made this possible. Thanks also to the catering staff at Allianz Park who put on excellent breakfasts and lunches for the children.
"The highlights of the week definitely included our Dragon's Den session, all of the physical activities ranging from dance to tag rugby to tug of war!"