With cheerleading it was so different, we didn't know what it was like and it was a lot of fun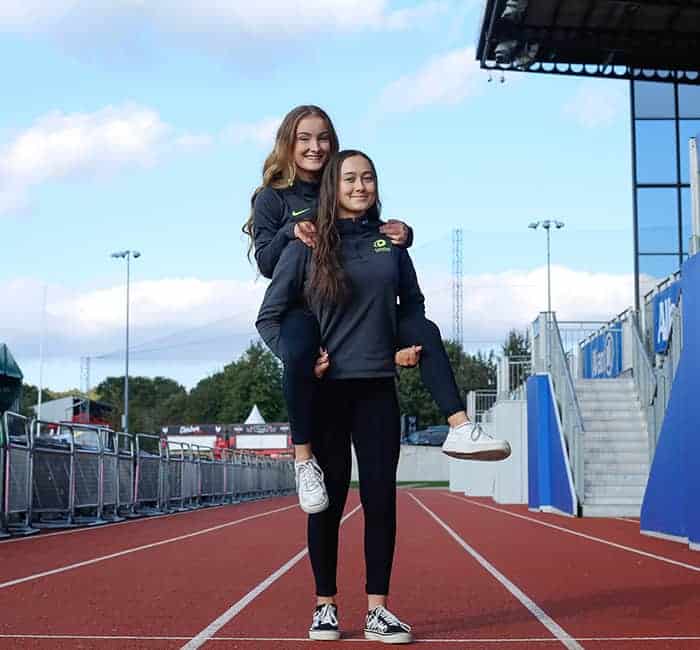 It's been a four-year journey for Alice and Martha that has taken them from trying out cheer and dance at school, to now being coaches to the next crop of young cheerleaders.
The two got their first taste of cheerleading while in Year 8 at Bushey Meads School and after doing the six-week course they joined Saracens Sport Foundation's School of Cheer, and never looked back.
When asked why they both stuck with the sport, Alice admitted that while they had enjoyed other sports, cheerleading offered something new.
"I think with cheerleading it was so different, we didn't know what it was like and it was a lot of fun.
"But once we started doing it, we went to a competition and we realised how much fun competitions were, which is why we joined the Saracens Elite team."
"We did things in PE like gymnastics and that was the most popular thing for everyone but obviously that changes every term", says Martha.
"With School of Cheer we really liked it and it was good that we could carry it on."
The variety within cheerleading was also something that drew the two to the sport, with Alice explaining:
"You've got dance, you've got gymnastics, you've got the tumbling. It's a range of different things in just one routine.
"It made us want to do it even more"
"You can have a strength in each section so if you're not strong in a particular section you can just kneel down and join in the next one.
"You don't have to be good at all of it. They want everybody to be able to join in each bit but if they can't it's not a problem. We've got people who can't tumble so they don't do the tumble section and if people can't stunt well, they'll tumble instead."
However, it wasn't till they went to their first big competition that they finally realised how big cheerleading really was, and that only served to give them more motivation to continue.
Martha: "The first big competition we did we saw what cheerleading really is and how big it is because when you're not doing it, you don't realise how much of a big thing cheerleading is."
"When we went there, we were just like 'woah', but it made us want to do it even more"
The duo were friends before joining cheerleading, having become friends in Year 7 and then deciding to join School of Cheer and Saracens Elite together.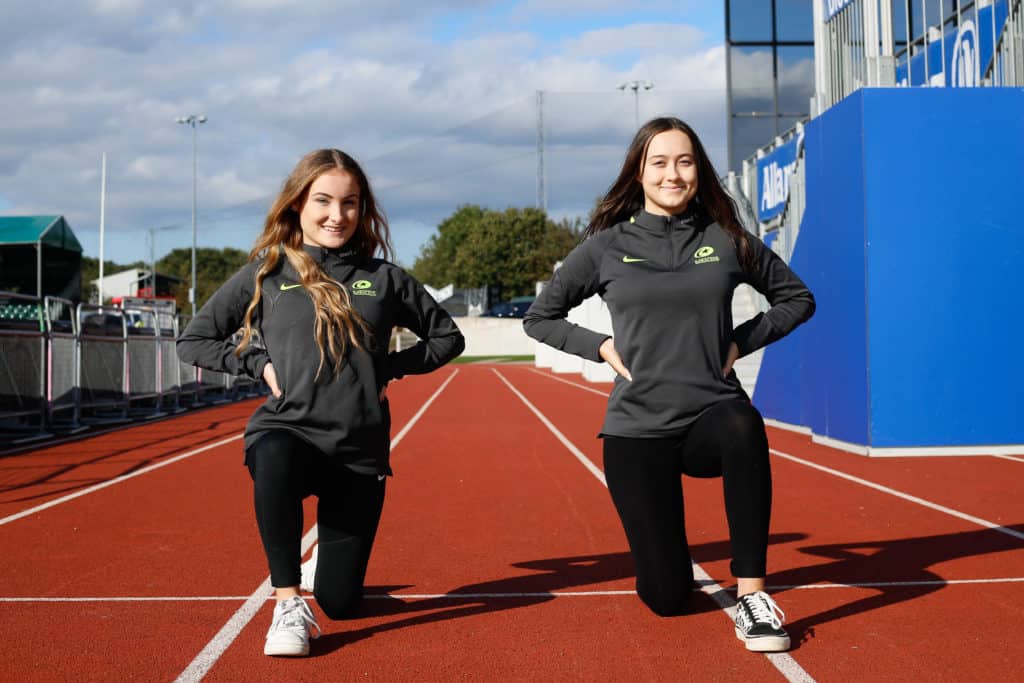 However, while they have stuck with cheerleading, the same can't be said for their peers.
Alice: "I feel like everybody started to leave at the age of 16-17, especially when they were doing their A-Levels.
"For us we didn't mind, we just worked our A-Levels around it, but some people just found it too much and they decided to move on.
"I think a lot of people have moved on now and there's only one person left who we joined with."
While that initial group hasn't stuck around in cheerleading, the sport has become a family affair for Alice with her younger sisters Maddy, 14, and Grace, eight, both taking it up two years ago.
"I guess they got into the sport through me. Maddy would come along to the competitions and we needed someone, so she just stepped in and decided to join.
"With Grace, we'd setup a little team and she wanted to try out and has been doing it since then.
"I think it's cute, especially with Grace because I like to see her following me in her footsteps! She loves cheer and she's actually really good.
"Maddy and I are on the same team, so we go to competitions together and sometimes get annoyed at each other! But with competitions we have to travel together so it's nice that we can all do that."
With so much of cheerleading about performance and displaying confidence, it can be quite a difficult sport for someone who isn't naturally inclined to perform in front of a crowd.
And even though Martha admits to still be quite shy herself, she knows how much of a difference doing cheerleading has made to her confidence.
"I still am kind of shy, but before doing cheerleading I would never have been able to go out and perform in front of people. But when we've done so many competitions now, I think it has made me more confident."
That confidence has also translated to her coaching, in particular when working in a secondary school with Year 7 and 8 pupils.
"I was bit worried that it would be awkward because I felt like I was still at the same level. I don't feel like I'm that much older than them but then they looked to me to tell them what to do.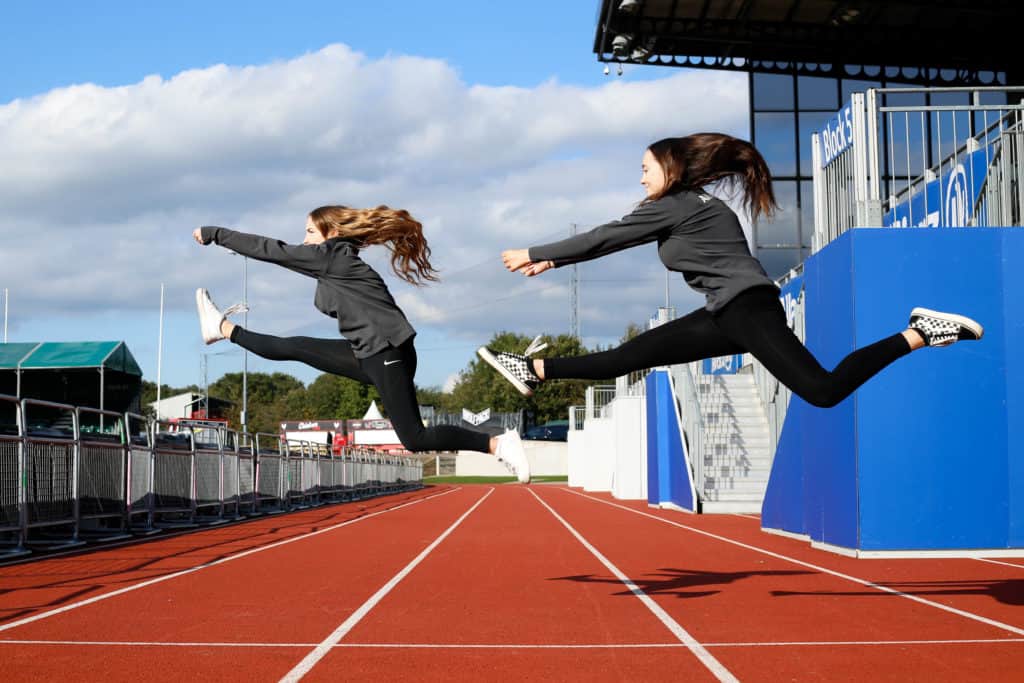 "They had no idea what cheerleading was or anything, so I've literally started from scratch trying to teach them what it is.
"After the first week it got easier every time because I got used to leading them. Now we're learning routines and it is fun seeing them try it and be happy when they get it right as well.
"It reminds me of when I first started doing cheerleading."
"I think it has made me more confident"
Alice, who coaches the Saracens Elite Little Red team has also seen how much her confidence has grown since starting cheerleading.
"Because we're expected to perform you just switch on and just do it. And with the coaching as well to have the confidence to teach a secondary school or a primary school, I think we have definitely grown with that as well.
"I think I want to keep coaching long-term. I want to take up as many coaching roles as possible and if I do go to university, I want to do cheer there as well."
Having gained a huge amount from the last four years, the two are understandably positive about their experiences within cheerleading with Alice emphasising that it's
"You get a lot of good experiences from it. You get to travel, you go to the competitions and also the match days, being able to perform on the pitch, that's just something you wouldn't normally be able to do, including in the middle of Wembley Stadium.
"Cheerleading is a lot bigger than you think. Once you go into the Cheer world there's so much to do and it's really exciting."

INJURY UPDATE | September 2023
Here's an update on the current squad as we head towards the start of the Gallagher Premiership season. Alec Clarey Is back in training after returning from a neck injury, and is due to return to the matchday squad imminently. Andy Christie Had successful surgery on a broken arm and will be back in training […]

Travel Information | England Women vs Canada Women
We're looking forward to welcoming you to StoneX Stadium tomorrow for the women's international between England and Canada. Here's all the information you need before you make your way to the stadium. PLEASE NOTE THERE IS NO TRAIN SERVICE TO MILL HILL BROADWAY (THAMESLINK) DUE TO ASLEF STRIKE ACTION. Getting to StoneX Stadium is quick […]

TEAM NEWS | Harlequins v Saracens Men (PRC - Rd 4)
Tom Woolstencroft says there is no better game to continue building momentum as Saracens Men make the journey to The Twickenham Stoop to take on Harlequins in the next round of The Premiership Rugby Cup on Sunday. The Men in Black head across London to face their local rivals for the first derby of the […]