TEAM NEWS | Sale Sharks Women vs Saracens Women (AP15S – RD5)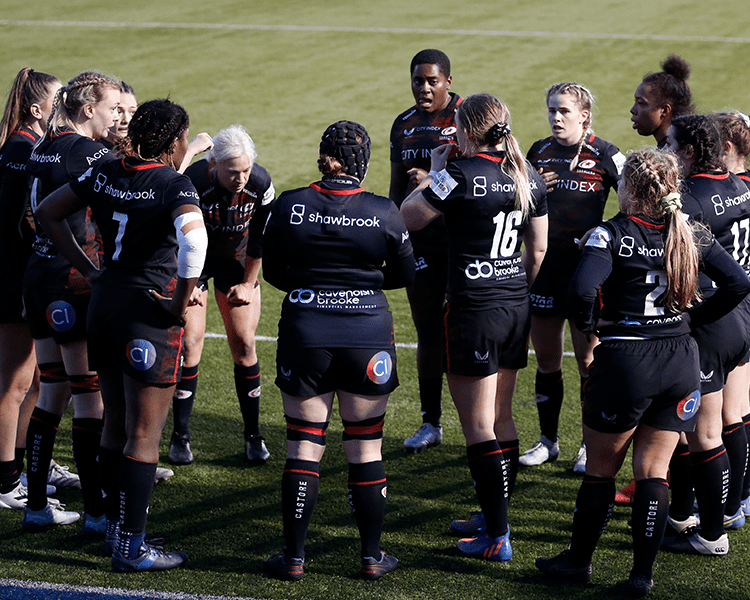 Zoe Harrison has challenged her side to go back to what they know, as they seek to return to winning ways against Sale Sharks tomorrow afternoon.
Last weekend, Harrison's side suffered a disappointing defeat to Gloucester-Hartpury at home. However, with one final game before the Christmas break, the focus is now on securing a victory to propel the team up the table.
Sale have been impressive so far this season, with three victories already and, whilst Harrison admits that it will be tough against a fired up Sharks side, she remained confident that her team could come out on top.
"It's always tough against Sale. They are always a very physical side. We know what's to come, but hopefully it will be a high-scoring game in our favour."
For Harrison, tomorrow's match will also mark her return to the matchday squad for the first time this season, alongside Poppy Cleall, Marlie Packer and Sarah McKenna, who was ruled out of last weekend's match prior to kick-off.
Director of Rugby Alex Austerberry has made several changes to his matchday side for this one, as he looks to inject some momentum into the camp.
In the front row, Kelsey Clifford, May Campbell and Alex Ellis retain their places, whilst Louise McMillan shifts into the second row alongside Fi McIntosh.
The backrow sees Grace Moore shift from number 8 to blindside flanker, whilst Packer and Cleall return to the side at openside and number 8 respectively.
Ella Wyrwas continues at scrum-half, whilst Harrison returns to start at fly half.
In the centres, Hannah Casey is joined by Holly Aitchison, who moves to outside centre, whilst the back three sees McKenna start at fullback, alongside Lotte Clapp and Coreen Grant on the wings.
Amongst the replacements, Mica Evans could make her second Saracens debut after returning to the club, whilst Sharifa Kasolo will be waiting to make an impact should she be called upon, having scored her first Premier15s try last weekend.
With a number of her fellow Red Roses teammates also returning to the starting XV tomorrow, Harrison admitted that she couldn't wait to be back out on the field in a Saracens shirt.
"I've been waiting for this for a good few weeks to get back in a Saracens shirt. Watching for the last few weeks has just made me want to get back on the pitch. We've now got depth in our squad, so if we can combine everything, I think we can be a really tough squad to beat."
Saracens Women's Team vs Sale Sharks Women
Kelsey Clifford
May Campbell
Alex Ellis
Fi McIntosh
Louise McMillan
Grace Moore
Marlie Packer (co-captain)
Poppy Cleall
Ella Wyrwas
Zoe Harrison
Lotte Clapp (co-captain)
Hannah Casey
Holly Aitchison
Coreen Grant
Sarah McKenna
Jodie Rettie
Mica Evans
Mica Gooding
Sharifa Kasolo
Kat Evans
Flo Williams
Cara Wardle
Isla Alejandro