TEAM NEWS | Saracens Women v Harlequins Women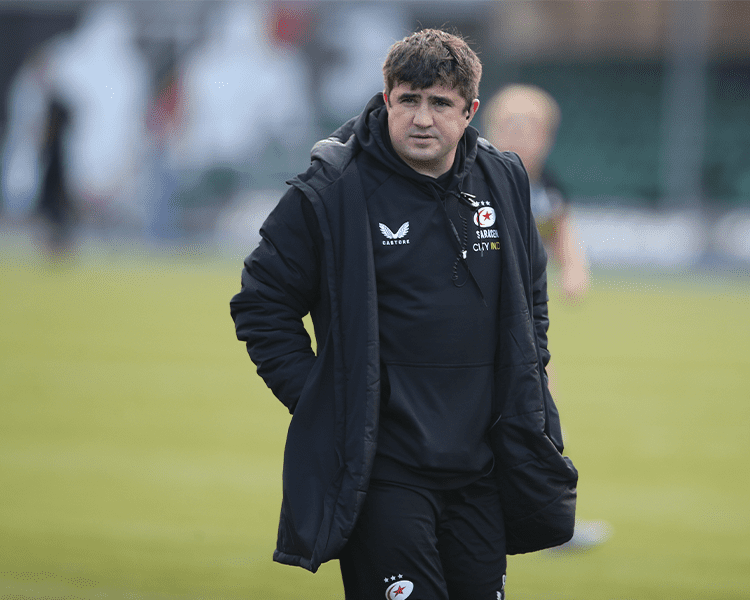 Head Coach Alex Austerberry believes Sunday's semi-final against Harlequins Women is one of the biggest matches that StoneX Stadium has ever seen.
The Women in Black face their local rivals with a place in the final at stake, and the two teams meet in the semi-final for the first time after previously contesting all three of the showpieces. 
There are two changes to the starting line-up after the memorable comeback win over Wasps last weekend, with Poppy Cleall and Ella Wyrwas both returning to the XV. 
The front row of Hannah Botterman, May Campbell and Kelsey Clifford will give the team plenty of power at scrum-time, whilst Fiona Mcintosh is joined by the returning Cleall in the second-row. 
Mackenzie Carson moves to blindside flanker, with Vicky Fleetwood at openside and co-captain Marlie Packer at number eight. 
Wyrwas is at scrum-half, and last Saturday's Player of the Match Holly Aitchison remains in the number 10 shirt. 
Hannah Casey and Alev Kelter continue in the midfield, and the exciting back-three of co-captain Lotte Clapp, Alysha Corrigan and Sarah McKenna will be looking to take advantage of any chances that come their way. 
There is a wealth of experience on the bench, with the likes of Kat Evans, Sonia Green and Jodie Rettie all ready to enter proceedings when required. 
Austerberry is eagerly anticipating the last four clash on Sunday. 
"It will be a big London derby and it will be a real showcase for the women's game. We've had two great games against them already this season and it will be winner takes all in this one. 
The men's team at Saracens are on course for a home semi-final in the Premiership and we want to show them the way by winning our knock-out game to get through to the final. There is a lot at stake and it promises to be one of the most significant women's matches ever played at the StoneX."
Saracens Women team to play Harlequins Women: 
1 Hannah Botterman 
2 May Campbell
3 Kelsey Clifford 
4 Fiona McIntosh
5 Poppy Cleall
6 Mackenzie Carson
7 Vicky Fleetwood
8 Marlie Packer (cc)
9 Ella Wyrwas 
10 Holly Aitchison
11 Lotte Clapp (cc)
12 Hannah Casey
13 Alev Kelter
14 Alysha Corrigan
15 Sarah McKenna
Replacements:
16 Kat Evans 
17 Donna Rose
18 Alex Ellis 
19 Sonia Green 
20 Jodie Rettie 
21 Anna Goddard
22 Cara Wardle 
23 Tilly Vaughan Fowler